Get Strong!
Register Now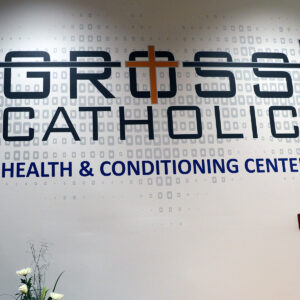 Gross Catholic is offering a strength and conditioning camp for all 7th & 8th graders in March. Our 9000 square foot Health and Conditioning Center, a space that rivals facilities on college campuses, is the site of the camp. The center is located on the south side of the Gross Catholic campus at 7700 S 43rd Street in Bellevue, Nebraska.
Strength & Conditioning Camp Schedule
Camp runs March 1st through March 31st, excluding the week of spring break, March 8-11.
Campers attend Monday-Thursday, from 4:30 PM to 5:30 PM. The cost of camp is $50 per athlete.
Safety First
Athletes are coached specifically to properly and safely lift weights. Consequently, this basic training will benefit them throughout their lives.  In addition, participants learn how to condition successfully. Our knowledgeable and qualified coaching staff also focuses on coordination of the athlete.
Eighth graders find that this strength and conditioning camp is a great way to prepare for the summer workouts that Gross Catholic's incoming freshmen are encouraged to attend. Additionally, they will feel more comfortable and be able to progress further over the summer.
Workouts include, strength training, speed and agility drills, flexibility, and injury prevention.
Camp Director
Coach Ben Stanesick is the camp director. Coach Stanesick started at Gross in 2018 teaching Biology, Environmental science, and Earth Science. He graduated from the University of Nebraska at Omaha with a bachelor's of Science in Education with an endorsement in Biology. Prior to teaching, Mr. Stanesick served six years in the United States Air Force Security Forces, namely as a Training Instructor. Additionally, he deployed to Kandahar, Afghanistan in 2013. Mr. Stanesick is married and has a son.
Requirements
Please arrive in athletic attire (shorts/t-shirt) and athletic shoes with a mask on. Masks required for the duration of the workout. Likewise, social distancing standards enforced. Bring your own water bottle. A water bottle filler is available. Furthermore, cubbies are available for storage.
Sign up soon! Limited spaces are available for the camp.
Register Now
---
About Gross Catholic
One of Nebraska's premier private schools, Gross Catholic High School is a faith and family-based community committed to developing Christian leaders through academic excellence in the Marianist tradition. Recognized locally for its outstanding education, welcoming atmosphere, competitive sports programs, engaging activities, robust faith, and boundless service work, Gross Catholic has energized the Omaha area for over 50 years. Gross Catholic recently received the KVSS Radio Superstar School Award and the Omaha World-Herald Omaha's Choice award for private schools.
To discover the Gross Catholic difference, contact us at 402.734.2000 or visit our Admissions page.