A Wonderful Class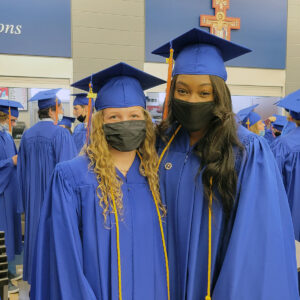 Celebrating our seniors! During the next month, we celebrate our seniors and their many accomplishments while attending Gross Catholic High School. Throughout this time, teachers, staff and alumni pray this special prayer for our seniors:
Heavenly Father, please be with these students as they go where they do not know.
As they seek to grow in knowledge, we ask that they grow in faith.
As they start to conquer the world, we hope that they conquer their fears.
As they strive to find their place, we pray that they find You.
Please go where we cannot, protect when we cannot, give strength that we cannot, and bring them safely home.
Of course, we encourage our entire Cougar community to pray for our senior class as well.
Here are some special ways we are celebrating them as they complete their final days at Gross Catholic High School.
Tuesday, April 27th: Senior Mass and Recognition Day Program
Students receive scholarships, Iron Man/Woman Awards, Spirit Scholar Awards, Brother Leo Willett Awards and Man/Woman of the Year Awards during the Senior Recognition Program starting at 9:30 am in the gym.
Friday, April 30th: Always a Cougar: Alumni 101
Our seniors will learn how to be amazing alumni of Gross Catholic High School.
May 4th: Last Pep Rally
A celebration of all the athletics and activities that students were able to participate in this school year.
May 5th: Celebrating our Seniors Retreat
On senior retreat, the class of 2021, will reflect on how they will carry their faith to the next stage of their life and will have time to start saying goodbye to their classmates.
Thursday, May 6th: College Spirit Day
Seniors sport their college spirit wear (with uniform bottoms).
Friday, May 21st: Celebrating Our Seniors Baccalaureate Mass
This mass takes place at Gross Catholic at 7 pm. Seniors can invite 6 guests (ticket required) to attend with them. Also, be sure to watch the mass live if you cannot attend.  It is streaming on our Gross Catholic Cougars YouTube channel.
Monday, May 24th: Graduation
Finally, seniors walk across the stage and receiving their diplomas at the Holland Performing Arts Center starting at 7 pm on the 24th. Seniors are allowed to invite 6 guests (ticket and Covid-19 waiver required). Tickets are handed out during senior final week (May 10 – 12th).
---
About Gross Catholic
One of Nebraska's premier private schools, Gross Catholic High School is a faith and family-based community committed to developing Christian leaders through academic excellence in the Marianist tradition. Recognized locally for its outstanding education, welcoming atmosphere, competitive sports programs, engaging activities, robust faith, and boundless service work, Gross Catholic has energized the Omaha area for over 50 years. Gross Catholic recently received the KVSS Radio Superstar School Award and the Omaha World-Herald Omaha's Choice award for private schools.
To discover the Gross Catholic difference, contact us at 402.734.2000 or visit our Admissions page.