It's All for the Students
Buy a Gold Cup Ticket Now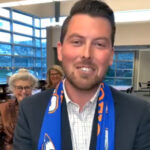 Our annual Gold Cup ticket raffle is under way! Last year, we broke all the records with sales last year. Let's go above and beyond this year and break more records.
Gold Cup Tickets for Sale
The Gold Cup is a $100 ticket that could win you $10,000.
There are many ways to win. First, there is an Early Bird drawing on March the 24th. Buy a ticket prior to March 24th. Then, you are automatically entered into a drawing to win $1000. Drawings for the big money are held the night of Virtual CeleBration, on April 24th. Second, your purchase of a Gold Cup gives you a great chance to win cash prizes of $10,000, $5,000, $2,500, $1,500 and $1,000! Buy a ticket now and win!
Additionally, if you purchase more than one ticket at a time, you receive a significant discount. One ticket is $100, three tickets are $250, seven tickets are sold for $500, and fifteen tickets are sold for $1000. If you buy fifteen, that is a $500 discount. Wow! Of course, you can get together with your friends, buy fifteen, and benefit from the discount.
As a matter of fact, the odds of winning are great, much better than any lottery. What are you waiting for? Everyone is buying a Gold Cup ticket! And remember, every purchase provides help for our students.
Virtual Celebration
A major part of our annual school fundraiser referred to as, "CeleBration", are the Gold Cup tickets. All proceeds go directly to our students in the form of scholarships and grants. This year, CeleBration will again be a virtual event. On the night of April 24th, the winning Gold Cup tickets will be drawn live on YouTube. Be sure to tune in and find out if you win.
There are many ways that you can give and participate. Consequently, check out our Virtual CeleBration blog to find out more.
---
About Gross Catholic
One of Nebraska's premier private schools, Gross Catholic High School is a faith and family-based community committed to developing Christian leaders through academic excellence in the Marianist tradition. Recognized locally for its outstanding education, welcoming atmosphere, competitive sports programs, engaging activities, robust faith, and boundless service work, Gross Catholic has energized the Omaha area for over 50 years. Gross Catholic recently received the KVSS Radio Superstar School Award and the Omaha World-Herald Omaha's Choice award for private schools.
To discover the Gross Catholic difference, contact us at 402.734.2000 or visit our Admissions page.