Junior Cougar Basketball Tryouts in March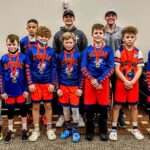 Junior Cougars Basketball is a fantastic way to learn skills and make friends for both boys and girls. The basketball program has tryouts on March 27th and 28th for the 2021-2022 season. Won't you join us?
Register for Junior Cougars Basketball
Schedule for Boys and Girls
Saturday, March 27th
Third & fourth grade teams, 12 PM to 1:15 PM.
Fifth & sixth grade teams, 1:30 PM to 2:45 PM.
Seventh and eighth grade teams, 3:00 PM to 4:15 PM.
Sunday, March 28th
Third & fourth grade teams, 2 PM to 3:15 PM.
Fifth & sixth grade teams, 3:30 PM to 4:45 PM.
Seventh and eighth grade teams, 5:00 PM to 6:15 PM.
Facilities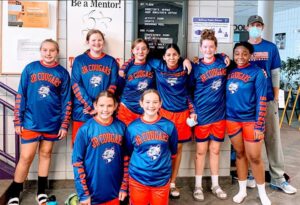 Basketball tryouts are held at Gross Catholic High School, 7700 S 43rd Street in Bellevue, Nebraska. Enter using the west commons doors. Athletes enter the commons area and proceed right to the main gym. Gross Catholic has excellent facilities, namely their recently renovated gymnasium.
Wonderful Experiences
First, as an athlete in the program, you are taught by excellent coaches. Second, you'll learn all the skills needed to succeed at the next level. Third, you are in for wonderful experiences. Fourth, it's a great way to find life-long friends.
Junior Cougars Program
Junior Cougar activities allow elementary school-aged children to learn more about Gross Catholic athletics and activities while learning skills, improving technique, and having fun! Currently, the program boasts seven sports: boys basketball, girls basketball, cheer, wrestling, football, dance, and baseball. Find out more about other Junior Cougars programs.
For further information, visit our Junior Cougars Basketball Facebook page.
---
About Gross Catholic
One of Nebraska's premier private schools, Gross Catholic High School is a faith and family-based community committed to developing Christian leaders through academic excellence in the Marianist tradition. Recognized locally for its outstanding education, welcoming atmosphere, competitive sports programs, engaging activities, robust faith, and boundless service work, Gross Catholic has energized the Omaha area for over 50 years. Gross Catholic recently received the KVSS Radio Superstar School Award and the Omaha World-Herald Omaha's Choice award for private schools.
To discover the Gross Catholic difference, contact us at 402.734.2000 or visit our Admissions page.