Curry Selected as Next Gross Catholic President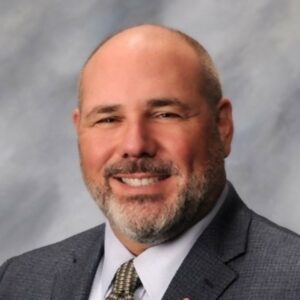 We are excited to announce that Tom Curry, Ph.D., will be the next president of Gross Catholic High School. Dr. Curry is a creative and tenacious visionary and an ardent steward of our shared Catholic faith. He has the expertise and ambition to successfully lead the faculty, staff and students into the future. In past leadership roles, Dr. Curry has consistently demonstrated results in growing enrollment, achieving fundraising goals, enhancing campus facilities, and initiating innovative academic and technology programming.
He will be joining us from Hudson, Ohio, where he most recently served as president of Archbishop Hoban High School. Past positions also include head of school for Bishop Ireton High School in Alexandria, Virginia, and multiple teaching roles throughout his career.
Prior to teaching, Dr. Curry received a Bachelor of Arts Degree in Religion from La Salle University in Philadelphia, a Master of Arts Degree in Theology and a Doctor of Philosophy Degree in Theology, from Boston College, and a Certificate in Nonprofit Management from the School of Business Administration from Marymount University in Arlington.
Dr. Curry will begin in his role at Gross Catholic on July 12 to prepare for the upcoming school year.
"We are excited to have someone with Tom's level of expertise joining the Cougar family. We are confident he has what it takes to successfully lead our school into the future, and we are eager to welcome him to the Cougar community," said Tim Meyers, Board Chair.
There will be many opportunities for faculty, staff, students, families and supporters to meet Dr. Curry and provide a warm, Cougar welcome when he arrives in Omaha.
---
About Gross Catholic
One of Nebraska's premier private schools, Gross Catholic High School is a faith and family-based community committed to developing Christian leaders through academic excellence in the Marianist tradition. Recognized locally for its outstanding education, welcoming atmosphere, competitive sports programs, engaging activities, robust faith, and boundless service work, Gross Catholic has energized the Omaha area for over 50 years. Gross Catholic recently received the KVSS Radio Superstar School Award and the Omaha World-Herald Omaha's Choice award for private schools.
To discover the Gross Catholic difference, contact us at 402.734.2000 or visit our Admissions page.