This Musical Will Delight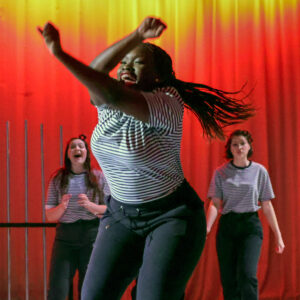 Buy Tickets
Looking for a fun and entertaining evening out? Look no further than our spring musical, "All Shook Up"! Taking place from March 31st to April 2nd, this musical is a must-see for the whole family.
Based loosely on William Shakespeare's "Twelfth Night", "All Shook Up" is set in the 1950s and features all of your favorite Elvis Presley hits. This lively and upbeat show is packed full of love triangles, comedy, and fantastic dance numbers that are sure to have you tapping your toes.
Cast
Our talented cast features Mary Engelkamp as Natalie Haller, Jason Goetz as Chad, and Tristan Guiterrez-Ramos as Jim Haller. Audrey Swanson stars as Sylvia, with Anna Simpson as Lorraine, Andrew Powers as Dennis, and Abigail Zeller as Miss Sandra. Other standout performances include Theresa DeWerth as Mayor Matilda Hyde, Jacob Vankat as Dean Hyde, Isa Simpson as Henrietta, and Andrew Podkovich as Sheriff Earl. The amazing Townspeople are Isabell Zeller, Grace Fanowiel, Jacklynn Bui, Noemi Rinikova, Erin Cassoutt, Lucy Kaczmarek, Monica Mora Becerra, Autumn Hall, and Annie Biros. Julia Bennett rounds out the cast as the Featured Townsperson. With such a talented lineup, you're sure to be entertained from start to finish.
Showtimes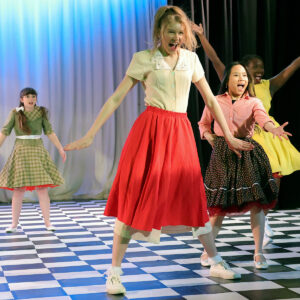 Our show times are Friday at 7:30pm, Saturday at 7:30pm, and Sunday at 2pm. Adult tickets are $7 and student tickets are $5. You can purchase tickets online right now or at the door on the day of the show.
Behind the Scenes
Directed and choreographed by Paloma Power, this musical is a true labor of love. The music is directed by Boston Reid, with Isabell Zeller as assistant choreographer and dance captain. Assistant Dance Captains are Jacklynn Bui & Grace Fanowiel. The show's lighting design is a collaboration between Paloma Power and Ayla Lee, with Laci Arends serving as stage manager and Ayla Lee and Grace Wozniak as assistant stage managers. The set design is a collaboration between the cast and crew of "All Shook Up", with costume design by Paloma Power. Music is operated by Grace Wozniak, with lighting operated by Ayla Lee and sound board operated by Shawn Pelchat.
From the Director's Chair
Director Paloma Power has appeared in this production in the past. "I chose this musical because it's one of my favorite productions that I was ever a part of in college. It's packed with humor and features a lot of dance numbers! The music is incredibly catchy, with all Elvis Presley hits. It's a family-friendly show that is guaranteed to make you laugh and leave you wanting to dance along!"
Get All Shook Up with Our Electrifying Musical
Don't miss your chance to see "All Shook Up"! With its talented cast, energetic dance numbers, and classic Elvis Presley hits, this musical is sure to be a hit with audiences of all ages. Get your tickets now and prepare to be entertained!
---
About Gross Catholic
Gross Catholic, a co-educational, college preparatory high school, began its proud heritage of academic excellence rooted in the Marianist tradition in 1968. We consider ourselves one of the best Catholic schools in Omaha, Bellevue, and Papillion. The school motto Dux Esto ("Be a Leader") is at the core of its extraordinary mission, innovative spirit, and fundamental values. The school offers a challenging environment and outstanding quality of life, both in academics and co-curricular activities, with a strong focus on STREAM (Science, Technology, Religion, Engineering, the Arts, and Mathematics) education. The spirit of Christian service and giving back is part of everything the school does. Gross Catholic's top-tier status is reflected in its talented faculty, staff, and coaches who take great pride in seeing virtually every graduate head to college, often to the most prestigious domestic and international universities and service academies. Together with families and alumni, Gross Catholic forges relationships for a lifetime, helping to ready the next generation to be exemplary, principled leaders of the world.
To discover the Gross Catholic difference, contact us at 402.734.2000 or visit our Admissions page.