It Will Be So Much Fun!
The new school year brings excitement, anticipation and…events! We would love the opportunity to host your child at our Peek, Pizza and Pre-Game Party, Friday, September 3rd.
Register Now!
Join us for a Peek, Pizza & Pre-Game Party!
Peek – Sneak a peek at our new Innovation Center and Health & Conditioning Center
Pizza – Enjoy pizza and soft drinks
Pre-Game Party – Join our Gross Catholic students as they walk to the GHS football game
Who – 6th, 7th & 8th grade students
When – Friday, September 3rd at 5:00 p.m.
Where – Event begins at Gross Catholic & ends at Bryan High Stadium
Free to all 6th, 7th & 8th grade students
Please RSVP by Wednesday, September 1st.
Students will start the evening with an exclusive sneak peek at our brand-new Innovation Center and state-of-the-art Health & Conditioning Center, followed by pizza and refreshments. At 6:30 p.m., current Gross Catholic students will lead the group as they walk to Bryan High Stadium to cheer on the Gross High Cougar football team as they take on the Seward Bluejays.
If you are unable to join us on September 3rd, please save the date for our Homecoming Tailgate Party on Friday, September 24th. Details to follow.
We hope to see your son or daughter at one or both events!
Register Now for Peek, Pizza, & Pre-Game!
A Place for Everyone!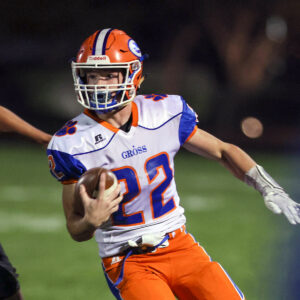 Curious about our football program or other fall sports? Take a peek at the info below highlighting what it means to be a Gross Catholic student athlete.
The strength of the Gross Catholic experience is the opportunity to get involved. The majority of our students are involved in more than one activity or sport. There is a place for everyone, and everyone has a place. Also, our Junior Cougar programs prepare prospective Cougars for success at the high school level.
Visit our athletics and activities page soon, and, don't forget, Go Cougars!!
---
About Gross Catholic
Gross Catholic, a co-educational, college preparatory high school in Bellevue, NE, began its proud heritage of academic excellence rooted in the Marianist tradition in 1968. The school motto Dux Esto ("Be a Leader") is at the core of its extraordinary mission, innovative spirit, and fundamental values. The school offers a challenging environment and outstanding quality of life, both in academics and co-curricular activities, with a strong focus on STREAM (Science, Technology, Religion, Engineering, the Arts, and Mathematics) education. The spirit of Christian service and giving back is part of everything the school does. Gross Catholic's top-tier status is reflected in its talented faculty, staff, and coaches who take great pride in seeing virtually every graduate head to college, often to the most prestigious domestic and international universities and service academies. Together with families and alumni, Gross Catholic forges relationships for a lifetime, helping to ready the next generation to be exemplary, principled leaders of the world.
To discover the Gross Catholic difference, contact us at 402.734.2000 or visit our Admissions page.