Say Hello to the Newest Members of Our Faculty and Staff
Dr. Tom Curry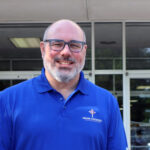 Dr. Tom Curry is our new president at Gross Catholic. Dr. Curry comes to us from Hudson, Ohio where he most recently served as the president of Archbishop Hoban High School. Past positions also include head of school for Bishop Ireton High School in Alexandria, Virginia and multiple teaching roles throughout his career.
His education consists of a Bachelor or Arts in Religion from La Salle University in Philadelphia, PA, a Master of Arts in Theology and a Doctor of Philosophy in Theology, from Boston College in Chestnut Hill, MA, and a Certificate in Nonprofit Management from the School of Business Administration from Marymount University in Arlington, VA. Dr. Curry and his wife, Sugmin, have three daughters, Celia, Ella and Nina. He and his family are getting settled in Omaha and excited to get to know the Cougar Community.
Ms. Leah Schwartz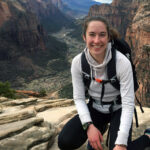 Ms. Schwartz is excited to be joining the Gross Catholic community as a science teacher and cross country/track and field coach. She came to Omaha as a part of the Magis Catholic Teacher Corps program at Creighton University, where she is currently pursuing her masters in education. Ms. Schwartz grew up in Wisconsin and graduated from the University of Wisconsin – La Crosse with a degree in Biology in December of 2020. Outside of school, she enjoys running, biking, and hiking the National Parks with her family. She is looking forward to working with the students and families at Gross Catholic as she begins her teaching career!
Mrs. Kara Wesely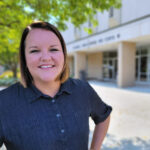 Mrs. Kara Wesely is a proud Omaha native and Gross Catholic alumna, class of 2000. She is excited about coming back to Gross Catholic as the Director of Recruitment and Admissions. She attended the University of Nebraska-Lincoln where she studied journalism. For the past six years, Kara has worked in advancement for non-profits in and around Omaha, most recently with The Salvation Army and the Archdiocese of Omaha. Before joining Gross Catholic in an official capacity, Kara served on the Gross Catholic Alumni and Advancement Committees. Kara's husband, Todd, attended Gross Catholic and is a fellow member of the class of 2000. Together, they have three children – Jake (11), Vivian (9) and Caroline (8).
Ms. Amy Taber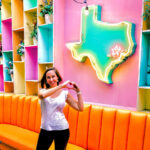 Ms. Amy Taber is the new School Counselor and will be working with Freshman and Sophomores. She is excited to get to know each and everyone of you and help with all academic and social/emotional needs. Recently, Ms. Taber moved to Omaha from the Houston/Galveston area in Texas for her fiance's job promotion. She attended college at Sam Houston State University for her undergraduate degree and Lamar University for her Masters of Education in School Counseling. This is her 12th year in education with over 8 years of experience teaching middle school and 2 1/2 years in school counseling. When she is not working, she enjoys spending time with family and friends, going to Orangetheory Fitness, traveling to new places and playing with their two dogs, Lulu and Tux. Notably, she is getting married in October to her fiance, Luciano and her new last name will be D'Angelo!
Mrs. Nicole Terry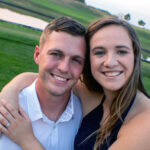 Mrs. Nicole Terry will be teaching Social Studies classes including World History, Criminal Justice and Psychology. She grew up mostly in Colorado Springs but has also spent 7 years living in Indonesia and the Island of Cyprus because her parents are missionaries. She attended Concordia University, NE and graduated in May, 2021 with a degree in History education. Mrs. Terry recently got married to the love of her life and can't wait for many more years to come. Additionally, she played basketball and ran track and Concordia University and will be helping coach both of those sports at Gross Catholic this year. Lastly, she absolutely loves history and social studies and is very excited to be able to teach and coach what she loves and to form relationships with the students and staff at Gross Catholic High School.
Faculty and Staff
Finally, we love our faculty and staff! If you would like to contact one or more of our leaders, please visit our Faculty and Staff page located in the "About" section of our website.
---
About Gross Catholic
Gross Catholic, a co-educational, college preparatory high school, began its proud heritage of academic excellence rooted in the Marianist tradition in 1968. We consider ourselves one of the best Catholic schools in Omaha, Bellevue, and Papillion. The school motto Dux Esto ("Be a Leader") is at the core of its extraordinary mission, innovative spirit, and fundamental values. The school offers a challenging environment and outstanding quality of life, both in academics and co-curricular activities, with a strong focus on STREAM (Science, Technology, Religion, Engineering, the Arts, and Mathematics) education. The spirit of Christian service and giving back is part of everything the school does. Gross Catholic's top-tier status is reflected in its talented faculty, staff, and coaches who take great pride in seeing virtually every graduate head to college, often to the most prestigious domestic and international universities and service academies. Together with families and alumni, Gross Catholic forges relationships for a lifetime, helping to ready the next generation to be exemplary, principled leaders of the world.
To discover the Gross Catholic difference, contact us at 402.734.2000 or visit our Admissions page.