Mrs. Teresa Dorwart is our 2021 Honoree
Hall of Fame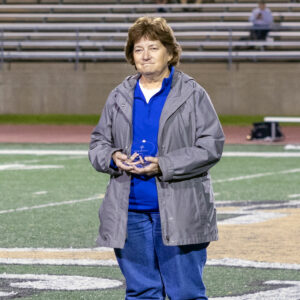 Each year Gross Catholic honors a member of our faculty—past or present—who has made outstanding contributions to our school community with the Faculty Hall of Fame Award. This year's Faculty Hall of Fame Award recipient is long time teacher,  Mrs. Teresa Dorwart.
Beginning in 1981
Teresa Dorwart began her teaching career at Gross Catholic in the fall of 1981, having previously taught in the Omaha Public Schools system. Subsequently, in her years at Gross Catholic, Teresa has taught English, Academic Decathlon, and French. Currently, she teaches all senior English classes and Academic Decathlon.
Outstanding Credentials
Teresa earned her Bachelor of Arts degree with majors in English and French from Creighton University and a Master of Arts degree in English from Creighton. Also, she has taken additional coursework at Georgetown University, the University of Nebraska-Lincoln, and UNO.
Very Involved
Extra-curricular activities have included coaching debate and being responsible for our highly successful Academic Decathlon team. Certainly, she has enjoyed taking the Academic Decathlon team on travels to New York and other cities and taking freshmen on education trips to our nation's capital.
Teresa was previously recognized by the Bellevue Optimist Club as a Teacher of the Year and last year received the Cox Communication Education Hero Award.
Teresa and her husband Charles have three sons and a daughter, all of whom are proud graduates of Gross Catholic.
We are Grateful for Mrs. Dorwart!
Teresa has enjoyed her many years at Gross Catholic, believing that our students and their families and our faculty and staff make Gross Catholic such a great place to be. Furthermore, she cherishes her association with the alumni and families who continue to support Gross Catholic. Congratulations Mrs. Dorwart!
---
About Gross Catholic
Gross Catholic, a co-educational, college preparatory high school, began its proud heritage of academic excellence rooted in the Marianist tradition in 1968. We consider ourselves one of the best Catholic schools in Omaha, Bellevue, and Papillion. The school motto Dux Esto ("Be a Leader") is at the core of its extraordinary mission, innovative spirit, and fundamental values. The school offers a challenging environment and outstanding quality of life, both in academics and co-curricular activities, with a strong focus on STREAM (Science, Technology, Religion, Engineering, the Arts, and Mathematics) education. The spirit of Christian service and giving back is part of everything the school does. Gross Catholic's top-tier status is reflected in its talented faculty, staff, and coaches who take great pride in seeing virtually every graduate head to college, often to the most prestigious domestic and international universities and service academies. Together with families and alumni, Gross Catholic forges relationships for a lifetime, helping to ready the next generation to be exemplary, principled leaders of the world.
To discover the Gross Catholic difference, contact us at 402.734.2000 or visit our Admissions page.