Once a Cougar, Always a Cougar
Gross Catholic alumni are an integral part of the Cougar Family, and we want to stay connected with you! The Gross Catholic High School Alumni Community is over 9,000+ strong!
We are thrilled to introduce our new alumni brand! You, dear alumni are the inspiration behind "the O.G." brand. It is a new sub-brand, or a secondary identity underneath the Gross Catholic brand and logo, that we've created just for you! Wondering why? It's simple, you are the originals- the O.G.s- who helped to create the culture and spirit that lives in students today. The halls of Gross Catholic are where the past meets the present to enrich a future of love, academia, compassion and authenticity. We are so proud that our community is authentic and we offer our community genuine leadership.
Celebrating Alumni Success: Join Our Business Directory!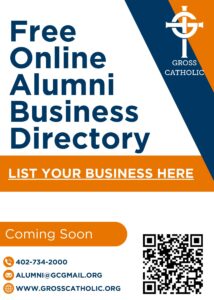 As Cougar Alumni, you have created the foundation to where our school stands today. We want to help you in your career now. By listing your business in our directory we can continue to build our Gross Catholic community to support one another.
This is also a great opportunity to see what your fellow graduates are up to! Listing your business in our directory will also offer exposure to new clients, and customers, and improve your online presence along with brand awareness. Click here to join!
*The Alumni directory is available to alumni, parents of alumni, grandparents of alumni, siblings of alumni, and parents of current students.*
Stay connected and spread the Cougar Spirit