Exciting Features Focused on Our Alumni!
Alimni features are fantastic! Amazing! Remarkable! That's what our alumni are. Doing all the things.
Use the orange and blue up or down arrows on the right of the page to open or hide our features.
Alumni Business Video Series
Many of Our Alumni Own Businesses
Introducing our Alumni Business Feature! We are excited to promote local Gross Catholic alumni who are carrying out our motto, "Dux Esto"! Please consider supporting these these local alumni businesses, however you can!
Scriptown Brewing Company
Located in the heart of the burgeoning Blackstone District, Scriptown Brewing Company brews classic examples of traditional beer styles. Check out their online menu online, order ahead and they'll have your order ready to go. Current hours are Wednesday thru Friday 12 pm – 6 pm and Saturdays from 11 am – 4 pm. https://app.upserve.com/s/scriptown-brewing-company-omaha
Elman Printing
For 40+ years Elman has delivered cutting-edge printing and personalized customer service. From their website, "Culture first. Everything else will follow. Partnership drives us. It guides us internally, as our staff works together closely and collaboratively, to strategize and execute every project. It inspires us as we walk alongside our customers, understanding their needs, their industries and their vision for the printed pieces we produce. At Elman Print, we pride ourselves not only on our work, but also in the WAY we work, fostering a culture of respect, creativity and trusted reliability."
Leuschen Law
Jeff Leuschen '08 is licensed to practice law in Nebraska and provides representation throughout eastern Nebraska. The Law Office of Jeffrey S Leuschen is focused in the areas of criminal defense, family law, juvenile law, and civil litigation.
Conservation Fusion
Susie Louis '92 founded and runs Conservation Fusion, an international non-profit organization whose mission is to educate to build and strengthen our world. You can learn more about her non-profit and support this cause at conservationfusion.org or www.facebook.com/ConservationFusion/
Super Cuts
Mark Adamson '74 is the true definition of an entreprenuer. He is the Practice Executive for Radiology Consultants of the Midwest as well as the owner of four Supercuts and Cost Cutter franchises across the metro area. Currently the Supercuts and Cost Cutter businesses are closed due to Douglas County health directives, but will re-open as soon as mandates allow. These locations include Supercuts Elkhorn, Supercuts Gretna, Supercuts Twin Creek and Harrison Cost Cutters.
State Farm
Amy Huck '90 and Sue Hebda '76 team up to offer great insurance rates through State Farm!
Ideal Designs, Trademark Homes, Imark Properties
Our Alumni Business Video Series continues with Ryan Krejci '01. Ryan is the owner of several different custom building companies in Omaha that build both residential homes and commercial buildings.
The Diamond Room
Stephanie Hile '04, Jenny Christian '11, and Theresa Beck' 79, own and manage The Diamond Room. This event venue features high ceilings with industrial lighting, sealed concrete floors and a beautiful outdoor patio which can be opened up to the event space.
Witchita Heating and Cooling
>Witchita Heating and Cooling has been in business for over 70 years serving the Omaha area. Chris Wichita '95 is the third generation owner and Kevin Kielion '82 has been a long time employee (and a former Gross Catholic Spirit man).
The Tooth Doc
Dan Ellingson '04 is passionate about giving his patients a dental experience that will leave them smiling! Dr. Ellingson is a firm believer in the oral-systemic connection, and he believes that all people deserve to receive comprehensive dental care for superior oral health. Always eager to add more expertise to better serve his patients, he has received extensive additional training through continuing education.
Inspired Bride
Melissa Murtaugh '01 brings an eco-friendly and affordable way for brides to find a perfect dress for their wedding day! Inspired Bride carries new and consigned bridal gowns, bridesmaid, mother's dresses and more!
Off The Wall Indoor Soccer
Tim and Theresa Gillespie '78 own and operate Off The Wall Indoor Soccer. They offer not only indoor soccer leagues, but also lacrosse and now welcomes the newest sport in the metro…bubble ball!
Premier Exteriors
James Pull '90 has been in the construction industry for over 25 years. He has been a roofer, and siding contractor for more than twelve years. His mission is to make sure that customer satisfaction is always a priority.
Where in the World Are Our Alumni?
Scroll through and see what our alumni are doing!
Mike Turco '90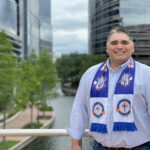 After leaving Gross Catholic in 1990, Mike Turco went on to earn a B.S. and M.S. from the University of Nebraska. In 1997 Mike began a 17 year career with the U.S. Geological Survey where he served as a Hydrologist in Iowa and Nebraska before moving to The Woodlands, Texas to serve as the Chief Hydrologist for Gulf Coast Programs. In 2013, Mike retired from the USGS and accepted the position as the General Manager of the Subsidence District, a regulatory agency unique to the Houston region that regulates groundwater to prevent land surface subsidence. Mike and his wife Amanda have two children, Joe attends Northeastern in Boston and Abby attends California Polytech in San Luis Obispo, California. Mike enjoys spending time outdoors with Amanda and their two dogs, and officiating Texas High School Football.
Carolyn Snell '93
Carolyn Snell, '93, knew she wanted to work in music touring when she was still a student at Gross Catholic. A graduate of Emerson College in Boston & former resident of Los Angeles, Carolyn has traveled with world with artists such as Janet Jackson, Reba, John Mayer, and New Kids On The Block. Once all touring stopped because of the pandemic, Carolyn began a side hustle from her home in Nashville. She has spent the last few months transferring VHS tapes to digital links of joy! She especially loves seeing memories from other Gross Catholic alumni. If you are interested in transferring your VHS, VHS-C, High 8 or MiniDV tapes into MP4 files (DVD & USB drives also available), you can find more information on her website snellycat.com.
Anton Rice '12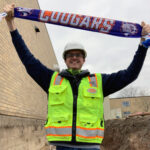 Anton Rice '12 moved to Milwaukee, Wisconson, after graduating from Gross Catholic, where he attended Marquette University. At MU he majored in civil engineering and ran on the track team as a long sprinter. In 2016 he graduated from MU and started working full time for a general contractor, Hunzinger, in the Milwaukee area. He is now a project manager for Hunzinger, and June will mark his 5 year anniversary at the company. He was married to Taylor in 2019surrounded by many Gross Catholic alumni and current students. Anton and Taylor are having a great time in Milwaukee, especially in the summers when they can hang out at patio restaurants, on a pontoon, at the beach, and in our backyard with their dog Luna.
Dave Pogge '00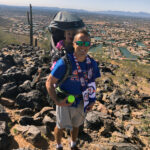 Dave Pogge lives in Peoria, AZ. Dave is married to Elizabeth and has three kids: Colton (9), Genevieve (6), and Scarlett (2). Dave works in the Aviation Industry. He spends his free time playing pickleball and hiking. Dave met up with his brothers Justin '03 from Omaha, NE and Mark '05 from Ankeny, IA at the final game of the World Series to watch their lifelong favorite team, the Dodgers, win it all!
Melissa Matthews'99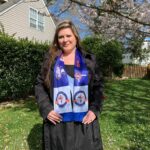 Melissa Marie Worrell Matthews '99, MBA currently lives in Chesapeake, Virginia with husband Rob and two daughters Arileigh (7) and Ellawyn (3). Rob is active duty Navy and stationed in Norfolk, Virgina and Melissa is the Director of Development at Children's Health Investment Program (CHIP) of South Hampton Roads. The organization works with children and families in the area who live in or near poverty to break the cycle of poverty by providing education and resources.
Jen Bradley '96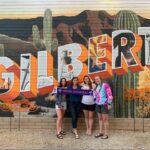 Jennifer (Fox) Bradley '96 has lived in Phoenix suburb, Gilbert, Arizona for over 17 years. She and her husband, Chris, have been busy raising 4 boys ages 7 to 14. They love when family and friends visit them in Arizona. Recently her sister and cousins visited them. Pictured here with Jennifer is Nicole Maher '17, Jamie Fox '09 and Kelly Maher '12.
Kent McLaughlin '01
After Gross Catholic, Kent McLaughlin graduated from the United States Naval Academy in 2005 and became a Naval Aviator. He deployed to the Western Pacific on the USS John C. Stennis and flew the MH-60S helicopter accumulating more than 1,000 flight hours. He was then assigned to Washington DC where he worked at the Pentagon, White House, and the US Capitol. He took a job at the US Embassy in Cairo, Egypt, where, looking for adventure but finding love, he met Elizabeth, who was teaching English at an international school. After convincing her to move to the States for a few years, they have again moved abroad – this time to Rabat, Morocco. Kent is currently a US Navy Commander (select), at the US Embassy in Rabat, Morocco, where he helps advance the defense relationship between the US and the Moroccan military. Kent and Elizabeth have two daughters, Jane (3) and Annie (1).
Meg Fritton '96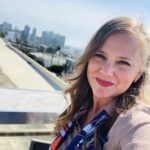 With laser beam focus, Internal Shadow Work and 20 years' coaching experience, Meg Fritton, is skilled at helping illuminate the restrained layers of your subconscious. She is a World Class Breakthrough coach and Certified Quantum Healing facilitator and has served thousands of clients including Conscious CEOs, Entrepreneurs, Leaders, high-end Coaches and Healers. She is currently living in San Diego, California.
Andrea Stranglen '85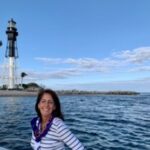 Andrea Stranglen resides in Lighthouse Point, Florida. She is the VP of Human Resources at Blackstone in Miami. Andrea and her husband take advantage of the south Florida climate to enjoy boating, swimming and fun in the sun.
Ryan Schrack '09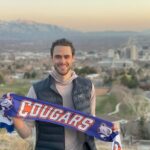 Ryan Schrack is currently living in Salt Lake City, Utah. He is the Chief Technology Officer at Lightyear, a company he co-founded with his college roommate from UNL, that makes enterprise IT purchasing and management easier. When Ryan is not working or studying for his Masters in Computer Science at Georgia Tech, he spends most of his free time in the mountains skiing, climbing, hiking, biking, and trail running.
Debbie Macalla '76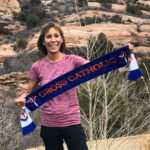 After graduating from nursing school and working for five years at Methodist Hospital in Omaha, Debbie (Szeliga) Macalla, married her husband Ken and together they relocated to the Minneapolis/St. Paul area. She continued her work in critical care and endocrine nursing until the birth of their second child. The McCalla family moved to Dakota Dunes, SD in 1992 where Debbie was an active volunteer until moving to Littleton, CO in 2019 after Ken's retirement. Debbie's family all greatly enjoy the many outdoor activities that Colorado has to offer.
Jason Wheeler '97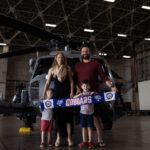 After high school, Jason Wheeler graduated from Creighton University with a BS in Exercise Science and then UNMC with a Doctorate of Physical Therapy. He moved all over the country before meeting his wife, Sarah, and has kept moving due to her career as a Pediatric Dentist in the United States Air Force. While they were living in San Antonio, TX Jason started working for the Air Force as a GS employee and also became a Fellow of the American Academy of Orthopaedic Manual Physical Therapy. 2020 brought a move to Okinawa, Japan where Jason has been a stay at home father to their boys, David and Samuel, while waiting to start with the Army as their Physical Therapist and Rehabilitation Coordinator at Torii Station.
Mariah Webinger '96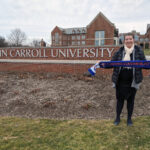 Mariah (Nelson) Webinger is an associate professor of accountancy at John Carroll University in University Park, Ohio. She and her husband Jeff, have been married for 22 years and are preparing to welcome their 8th child in July.
Dan Reilly '75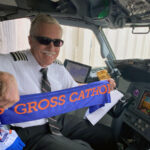 After Gross Catholic, Dan Reilly graduated from the USAF Academy and served as an Air Force pilot for 24 years, retiring as a Lieutenant Colonel. For the past 17 years he has worked as an Airline Pilot with Southwest Airlines. He and his wife Cindy have been married for 35 years and have 4 children and 6 grandchildren. Dan and Cindy divide their time between homes in Winter Park, CO and Aurora, IL. Dan enjoys spending his free time running, swimming, bike riding and skiing.
Bridget Goldsmith-McKee '94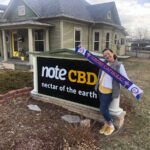 Bridget Goldsmith-McKee, and husband Shawn, have lived the northern Colorado area since 1996. They have raised 3 young adults Delaney, Aidan and Darby. Bridget joined the hemp industry early on and launched her own plant medicine company, NoteCBD soon after. It's now a family business that includes a cannabis communication company and several farms. Helping humans heal is a big part of her life.
Cameron Tysor '05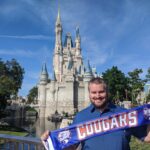 Cameron just reached 9 years working for "The Mouse" in Orlando, Florida.  He spends his days managing construction projects of all sizes and his nights watching the Magic Kingdom fireworks from his couch (yes they are that close!) Cameron is standing in front of the Cinderella Castle at the Magic Kingdom Theme Park in Orlando.
David Loignon '83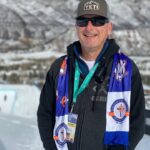 David and his wife Julie currently live in Austin, Texas. He is a freelance producer and director, specializing in live sports and events, such as Formula 1 racing, The Kentucky Derby and X Games. This photo was taken at the top of the Big Air ramp at X Games Aspen this year. David also produced the US coverage of Pope Francis's visit to Juarez/El Paso in 2016!
Yvonne (Wilhelm) Schilz '76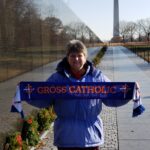 Yvonne lives in Annadale, Virgina. She is currently the Chief of the Commemorative Partner Program and POW/MIA liaison with the United States of America Vietnam War Commemoration. This photo is taken at the Vietnam Veterans Memorial at Christmas time in Washington, D.C. "The Wall", as they call it, lists all the names of those who were killed during the Vietnam War, and those still missing in action. Learn more about Yvonne in the next Dux Esto Magazine!
Jolene (Wright) Hotovy '79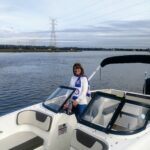 Jolene Hotovy and Michael have lived in Charleston, South Carolina almost 6 years. This picture is taken from their "backyard". They currently live in a condominium on the Ashley River, about 3 miles up from Charleston Harbor. They also spend part of the year in Nebraska, where her family lives. They love it in Charelston but Jolene says, there really is "no place like home" in Nebraska!
Ryan Crnkovich '09 & Caitlyn (Maher) Crnkovich'09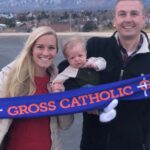 Ryan, Caitlyn, and Luke (Future Cougar) currently live in Colorado Springs, CO. Ryan is stationed at Peterson Air Force Base as the Area Defense Counsel and Caitlyn works as a pediatric occupational therapist at the Shandy Clinic.
Jessica Slattery '98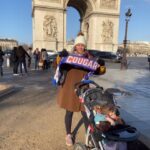 Jessica Slattery '98 has lived all over the world but recently moved to Paris, France. She is a Foreign Service Officer with the US Department of State working in the Economic Section at the US Embassy in Paris. In this photo she is visiting the Arche de Triomphe with her daughter Gabrielle and husband Camille.
Daniel Schmidt '78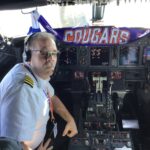 Daniel is currently living in Inman, South Carolina and is a Boeing 737 Captain for United Airlines. He waves hello to his alma mater, when "flying by"!
Kenny Burson '99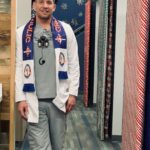 Kenny lives in Denver, Colorado and recently opened a Dental Clinic called The Denver Dentist! Most weekends in the winter you can catch him skiing in the mountains, unless there is a good Nuggets game.  Burson is aslo a Bronco's fan through and through! He says Denver has become a great place to live, but Omaha and Papillon will always be home.
Danny Shaffar '02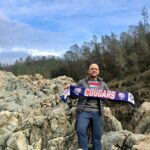 Danny lives in Roseville, California. He just started his 9th year at Union Pacific and recently accepted an Operations Manager position. He spends some of his time at the local breweries in the area, and in the summer, he typically looks for cool Airbnbs on the coast and spend the weekend there. If he is not on the coast, you can usually find him camping or hiking in Tahoe National Forrest.
Mike Dmyterko '88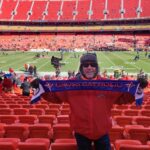 Mike and his wife Amy just celebrated their 26th wedding anniversary in November. They have 3 children, 2 post high school and one junior in high school. He was also recently named as President of Coffman Associates, an airport consultancy.  This is a photo of Mike at the Kansas City Chiefs playoff game in January of 2020!
Sarah (Kirkland) Moeller '08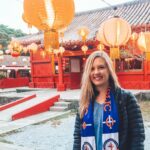 Check out Sarah in Okinawa, Japan! The city lights these lanterns to celebrate the new year! The orange in the background goes really well with the blue in her scarf! Orange and Blue! Dux Esto! Sarah lives in Yomitan-son Nakagami-gun, Okinawa, Japan and recently was able to view the beautiful blooming of the cherry blossoms in Japan.
Chris Conzett '03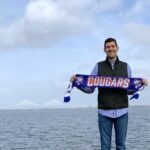 Chris lives in Charleston, South Carolina with his wife Christine, son Hudson, and new daughter Madison who was born on February 8, 2020. Chris graduated dental school from the Medical University of South Carolina in 2017 and will finish his residency in periodontics at the same institution this coming May. In the photo, Chris is standing in front of the Charleston harbor which is where the first shots of the American Civil War were fired. Chris has lived many places since he graduated from Gross Catholic, but he always enjoys his trips back to Omaha to see lifelong high school friends and his entire family who still resides in Omaha.
Veronica (Kelly) Mower '83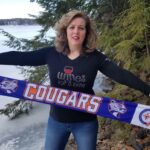 Veronica is a proud military mom of 3 sons – Cody Mower, USMC. Casey Mower USN. and Cole Mower USN.  She is an entreprenuer, owner of Emerald Insurance Services and Maine Wine Tastings. She is also a wine consultant for the award winning winery, WineShop At Home.  You can find her website at http://www.mainewinetastings.com.
Billy Stanek '01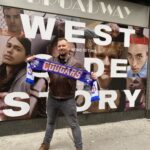 Billy lives in Glendale, California and is the Director of Creative and Client Services at BLT Communications in the Broadway division. Over the past year, his team has brought to life the advertising campaign for the revival of West Side Story on Broadway, which officially opens today! Here he is standing in front of the art his team designed for the Broadway Theatre in New York City.
Jamie (Swertzic) Cook '82
Jamie moved to Phoenix Arizona 34 years ago, after graduating from UNL. This May, she will celebrate her 30th anniversary with her husband Doug Cook. Jamie owns Strategic Meetings, Ltd, a full service corporate meeting and incentive planning company.  Some of her favorite things are traveling, morning walks, Arizona sunsets, pilates, chardonnay, visitors (family & friends), her garden, country music and ANYTIME she gets to hang out with her best friends from Gross High!! AND almost being retired!
Paul Garro '79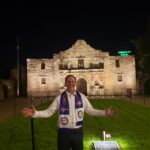 The Alamo in San Antonio, originally known as Misión San Antonio de Valero, is a historic Spanish mission founded in the 18th century by Roman Catholic missionaries in what is now San Antonio, Texas. In 1836 the Battle of the Alamo became an enduring symbol of resistance to oppression and perseverance for independence,  In 1845, the United States annexed Texas and in 1852 the Marianists started a primary school in San Antonio above a livery stable near the site of the Alamo. Central Catholic High School is a derivative of that first school founded by the Marianists and Paul Garro is the current President of Central Catholic.
Alex Homan '16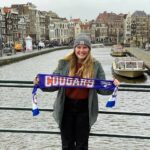 Alex usually lives in Sioux City, Iowa, studying Biology and Psychology @MorningsideEdu, but during her second semester of 2020, she is studying abroad in Maastricht, Netherlands. Next year, she is planning on applying to graduate schools to study Physical Therapy. Since she has been in Holland, Alex has already visited Berlin, Munich, Prague, and Venice. In this photo, Alex is enjoying a trip to Amsterdam.
Scott Shiller '89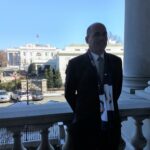 Scott Shiller received his high school diploma from Gross Catholic in 1989 and went on to graduate from the University of Nebraska in Omaha in 1994 and the United States Naval War College in 2015. He currently lives in Edgewater, Maryland, in the Washington, DC area and works in the federal government.
KayLynne (Koubsky) Gasiorowski '99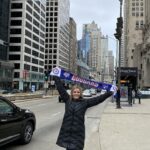 KayLynne graduated from Gross Catholic High School in 1999 and then went on to receive a Bachelor of Science in Biology from UNO and a Doctorate in Chiropractic from Cleveland Chiropractic College in Kansas City. She has practiced Chiropractic in Chicago since 2006 alongside her husband. Together they have two little girls, Amelia (5) and Annabelle (3).