Donate to Alumni Giving Challenge
Our Alumni Love the Challenge!
Knock our socks off by donating to the 2021 Alumni Giving Challenge and help reach our goal of 300 donors! The first 100 donors receive a pair of Dux Esto socks!
The leaderboard is updated daily at 8 AM during the challenge.

Support of Alumni is Key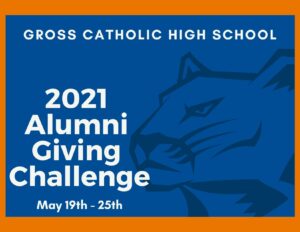 Alumni support is a key factor in the success and growth of Gross Catholic High School. Importantly, not only is alumni giving a "vote of support" in one's alma mater. It also impacts the amount of financial support we are able to offer our current students. Therefore, our goal is to continue to increase our overall giving percentage. How? By encouraging new alumni donors to give to our annual fund, through monthly, quarterly or annual gifts.
When you contribute to Gross Catholic High School, you make a HUGE impact! Through generous donations from our alumni, we can offset the difference between the true cost of education and the actual tuition our families pay. Filling this tuition gap creates the opportunity to continue to foster growth. Fostering growth especially for students whose families may not be able to afford the cost of a quality education otherwise.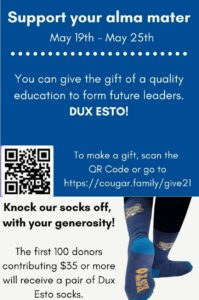 Each year we challenge all graduating classes to a friendly competition to see which class can achieve the highest giving percentage. Participation is the goal of this campaign. It must be remembered that every gift has an impact and supports the mission of the school. We challenge alumni to give a monthly reoccurring gift that represents the number of years since you have graduated. For example, if you graduated in 2010, consider giving $10 a month. Or if you are a member of the first graduating class in 1972, consider a donation of $48 a month.
How to Win
The class with the largest percent of participation is declared the "winner" of the Alumni Giving Challenge. The winning class is recognized on the alumni page of our website, on social media and additionally, in the Fall Dux Esto magazine. ALSO the class composite (located in the entrance school) is adorned with the first place ribbon during the following school year!
Previous winners are the class of 1999 and the class of 2000.
---
About Gross Catholic
One of Nebraska's premier private schools, Gross Catholic High School is a faith and family-based community committed to developing Christian leaders through academic excellence in the Marianist tradition. Recognized locally for its outstanding education, welcoming atmosphere, competitive sports programs, engaging activities, robust faith, and boundless service work, Gross Catholic has energized the Omaha area for over 50 years. Gross Catholic recently received the KVSS Radio Superstar School Award and the Omaha World-Herald Omaha's Choice award for private schools.
To discover the Gross Catholic difference, contact us at 402.734.2000 or visit our Admissions page.