Our Alumni Lead by Example!
The Distinguished Alumni Award was established to recognize Gross Catholic graduates who have continued to promote our school spirit and demonstrate dedication to our motto, Dux Esto. The presentation of this award will occur at CeleBration in April to recognize the nominees and the winner.
Gross Catholic is proud of the success and accomplishments of so many graduates. With this prestigious award, it is a privilege to recognize those alumni who have excelled in their respective careers or service to others.
2022: Mike Filipowicz '73
Mike Filipowicz '73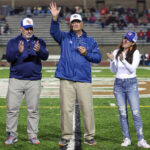 Mike Filipowicz better known as Coach Flip, Flipper or just Flip graduated from Gross Catholic in 1973. During his high school years he played baseball, basketball and golf. After graduation he worked for several different appliance parts companies. Mike then realized that he had a passion to work with kids, went back to college at UNO and earned his bachelor's degree in 1999. He taught at Walnut Creek Elementary in Papillion for 20 years, before he retired in 2020.
Mike and his wife Michele (Morin) class of 1972, have been married for over 30 years. They have five children between the two of them. Mike and Michele have supported Gross Catholic in many ways, including volunteering to co-chair our CeleBration event in 2019.
Mike has coached both football and baseball for the Cougars. He capped a 31 year coaching career for the baseball program in 2020. During his time as head coach, his team earned the Class A State Legion Championship in 2003 and two Class B State Championships in 2009 and 2010 and ended his career with more than 1200 baseball victories.
Mike was also instrumental in helping the Cougars win the 2012 State Football Title and has served as both a defensive coordinator and a linebacker coach for 20+ years. He still serves as a linebackers coach for Gross Catholic. A fellow coach stated,
"Flip is one of those people you never forget. Not only because he bleeds orange and blue, but because he has touched the lives of so many kids throughout his coaching and teaching career. His pregame speeches before each game were filled with motivation and playing for the "G" on the helmet."
Mike and his wife Michele (Morin) '72 have been longtime supporters of Gross Catholic and volunteered as co-chairs for CeleBration in 2019.
Thank you for your time and commitment to Gross Catholic Coach Flip!
2021: Scott Riha '91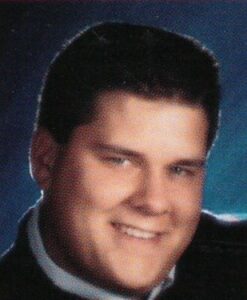 Scott has bled "Orange and Blue" since his days at Gross Catholic. He has exemplified the "Dux Esto" motto by volunteering his time at many Gross Catholic events. For the past 8 years he, along with his family, have chaired the Cougar Classic Golf Tournament. Scott takes this roll seriously and has increased revenue raised by recruiting the maximum amount of golfers allowed at the event. The money raised directly impacts the students of Gross Catholic in many ways. The morning of the Cougar Classic he also enjoys showing pride in his alma mater by painting the famous "G" logo, on a hill, at the golf course.
Additionally, Scott, along with the rest of the "G Crew", volunteer hours of their time preparing the softball field every fall season. He is always in the stands at sporting events cheering on his children and fellow Cougars. He is truly proud to be a part of the Cougar Community.