Our Alumni Are Amazing!
The Distinguished Alumni Award was established to recognize Gross Catholic graduates that have continued to promote our school spirit and demonstrate dedication to our motto, Dux Esto. The presentation of this award is held every year during halftime of the homecoming football game.
Gross Catholic is proud of the success and accomplishments of so many graduates. It is a privilege to recognize those alumni who have excelled in their respective careers or service to others, with this prestigious award.
2021: Scott Riha '91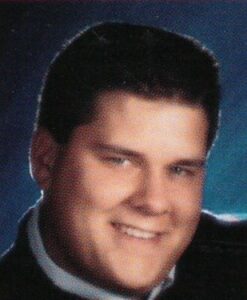 Scott has bled "Orange and Blue" since his days at Gross Catholic. He has exemplified the "Dux Esto" motto by volunteering his time at many Gross Catholic events. For the past 8 years he, along with his family, have chaired the Cougar Classic Golf Tournament. Scott takes this roll seriously and has increased revenue raised by recruiting the maximum amount of golfers allowed at the event. The money raised directly impacts the students of Gross Catholic in many ways. The morning of the Cougar Classic he also enjoys showing pride in his alma mater by painting the famous "G" logo, on a hill, at the golf course.
Additionally, Scott, along with the rest of the "G Crew", volunteer hours of their time preparing the softball field every fall season. He is always in the stands at sporting events cheering on his children and fellow Cougars. He is truly proud to be a part of the Cougar Community.