Demonstrating Excellence
Generally speaking, there are many wonderful academic competitions out there. Go prove you're the best writer, or the best physicist, or the best speller. Academic Decathlon isn't about any of that, though. It is not about demonstrating how good a student you already are. It's about daring to push limits and to master college-level material. AcaDec is also a great way to practice skills, like public speaking, that might be wholly new. And it's about the people met along the way.  Notably, the coaches who will mentor, the competitors who will challenge, and the teammates who will become lifelong friends.
Thoroughly Tested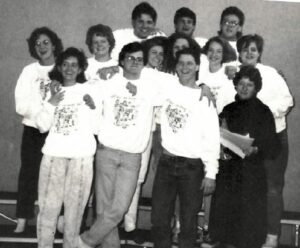 On the whole, decathletes study and test in seven areas: math, language and literature, science, music, art, economics, and social science. Additionally, students give two speeches (a prepared and an impromptu). They write an essay, and participate in an interview. In must be noted that Gross Catholic has been competing in Academic Decathlon for over 30 years, led by English Teacher, Mrs. Teresa Dorwart.
Adjusting to Covid
The Academic Decathlon team recently competed in the State Competition. In normal years, students travel to other schools for scrimmages, regionals and state competitions. This year, due to health precautions, students gave speeches and then completed interviews with judges via zoom. The following day they tested in 7 different categories. Students compete at 3 different levels of competition based on their previous 2 years GPA.
Levels of Competition
To clarify, the first competition level is referred to as, "Varsity". Students in this category have a GPA from 0.00 to 3.19. The second level is called, "Scholastic", with a GPA between 3.2 to 3.79. Furthermore, the final level is, "Honors". Students in this category must have a GPA of 3.8 to 4.0.
Academic Decathlon State Champions
Significantly, the team ended the competition as State Champions for Class B. The top scorer from Gross Catholic is Amy Conner. Amazingly enough, Amy has been competing on the team since her Sophomore year. She decided to join the team because she loves to learn new things and is very competitive. To be sure, Academic Decathlon is the perfect combination for Amy. Truly, "The biggest thing I have learned during my time on the team is how to study effectively, as well as how to manage my time."
Academic Decathlon Individual Medal Winners
Amy Conner: silver medal science, honors division
Quentin Hanzlik: gold medal in speech, gold medal in interview, scholastic division
Joe Kouba: gold medal in speech, honors division
Ripley Stansbury: gold medal in interview, silver medal in speech, varsity division
Connor McGarry: gold medal in music, silver medal in science, silver medal in literature, scholastic division
Owen Nolte: bronze medal in speech, scholastic division
Alternates
Audrey Swanson: bronze medals in hard sciences, soft sciences, and fine arts, scholastic
Arianna Serow: bronze medal in fine arts, honors division
Going forward, the team will now prepare for the online nationals competition that held in April.
---
About Gross Catholic
Gross Catholic, a co-educational, college preparatory high school, began its proud heritage of academic excellence rooted in the Marianist tradition in 1968. We consider ourselves one of the best Catholic schools in Omaha, Bellevue, and Papillion. The school motto Dux Esto ("Be a Leader") is at the core of its extraordinary mission, innovative spirit, and fundamental values. The school offers a challenging environment and outstanding quality of life, both in academics and co-curricular activities, with a strong focus on STREAM (Science, Technology, Religion, Engineering, the Arts, and Mathematics) education. The spirit of Christian service and giving back is part of everything the school does. Gross Catholic's top-tier status is reflected in its talented faculty, staff, and coaches who take great pride in seeing virtually every graduate head to college, often to the most prestigious domestic and international universities and service academies. Together with families and alumni, Gross Catholic forges relationships for a lifetime, helping to ready the next generation to be exemplary, principled leaders of the world.
To discover the Gross Catholic difference, contact us at 402.734.2000 or visit our Admissions page.