A Wonderful Class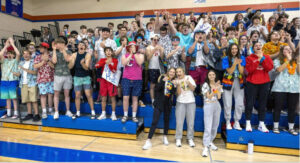 Celebrating our seniors! During the next month, we celebrate our seniors and their many accomplishments while attending Gross Catholic High School. Throughout this time, teachers, staff and alumni pray this special prayer for our seniors:
Heavenly Father, please be with these students as they go where they do not know.
As they seek to grow in knowledge, we ask that they grow in faith.
As they start to conquer the world, we hope that they conquer their fears.
As they strive to find their place, we pray that they find You.
Please go where we cannot, protect when we cannot, give strength that we cannot, and bring them safely home.
Of course, we encourage our entire Cougar community to pray for our senior class as well.
Here are some special ways we are celebrating them as they complete their final days at Gross Catholic High School.
Tuesday, April 26th: Senior Breakfast, Recognition Day Program and Mass
Seniors will enjoy breakfast together to start their day. The Recognition Day Program will being at 10 AM and highlights seniors that have received scholarships, Iron Man/Woman Awards, Spirit Scholar Awards, Brother Leo Willett Awards and Man/Woman of the Year Awards. Following the program, seniors will celebrate mass together.
Thursday, May 5th: College Spirit Day
Seniors sport their college spirit wear (with uniform bottoms). 
Friday, May 20th: Baccalaureate Mass
Seniors and their families are invited to celebrate mass at St. Cecilia Cathedral starting at 6 PM.
Monday, May 23rd: Graduation
Finally, seniors walk across the stage and receiving their diplomas at the Holland Performing Arts Center starting at 7 PM on the 23rd. Tickets are handed out during senior final week (May 9 – 11th).
---
About Gross Catholic
Gross Catholic, a co-educational, college preparatory high school, began its proud heritage of academic excellence rooted in the Marianist tradition in 1968. We consider ourselves one of the best Catholic schools in Omaha, Bellevue, and Papillion. The school motto Dux Esto ("Be a Leader") is at the core of its extraordinary mission, innovative spirit, and fundamental values. The school offers a challenging environment and outstanding quality of life, both in academics and co-curricular activities, with a strong focus on STREAM (Science, Technology, Religion, Engineering, the Arts, and Mathematics) education. The spirit of Christian service and giving back is part of everything the school does. Gross Catholic's top-tier status is reflected in its talented faculty, staff, and coaches who take great pride in seeing virtually every graduate head to college, often to the most prestigious domestic and international universities and service academies. Together with families and alumni, Gross Catholic forges relationships for a lifetime, helping to ready the next generation to be exemplary, principled leaders of the world.
To discover the Gross Catholic difference, contact us at 402.734.2000 or visit our Admissions page.