The Golf Classic is September 18, 2023!
Registration is now open for the 2023 Cougar Golf Classic on Monday, September 18, 2023, at Eagle Hills Golf Course in Papillion. The event includes lunch, dinner, pin prizes on every hole, an online silent auction, raffles, and more! See below for a detailed description of this year's auction items.
Prizes this year include a $10,000 Hole-In-One Contest, Scotty Cameron Phantom X Putter, Yeti Tundra 75 Hard Cooler, and an Apple iPad 128GB.
🐦$125 Early Bird discount is available until September 1st! ($150 fee after the 1st.)
Details
10:15 a.m. – Check-In/Lunch
11:00 a.m. – Shotgun Start
Dinner and Awards Following
Limited spaces are available, register today!
Eagle Hills Golf Club • 501 Eagle Hills Drive, Papillion, NE
Auction Items Descriptions
Dormie Network Stay and Play Package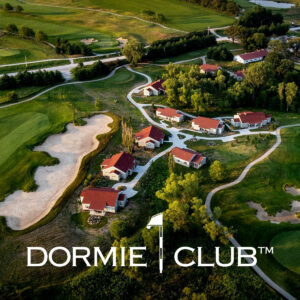 Dormie Network is happy to provide a 2-day, 1-night stay and play package to the Cougar Classic. We've "Cougar-Sized" this package with two $100 Southwest gift cards and $100 Avis Car Rental gift card.
Winning bidder will receive two 18 hole rounds of golf, and one overnight Standard (Dormie) Cottage for four golfers. Bidder will have the opportunity to choose from any of FIVE Dormie Network properties and will have twelve months from the time of the auction to utilize their certificate.
• Retail value of this package is $4,400
• Dormie Club in Pinehurst is EXCLUDED from this offering. It is reserved for Dormie Network Membership only.
• Winning bidder will be responsible for all travel, food and beverage, and any associated caddie fees that are required by the club they are choosing to go to.
• Winning bidder will be able to make their reservations within 180 Days of their planned trip.
• Outside alcohol is STRICTLY forbidden on any Dormie Network property. Those failing to comply will be charged, and potentially asked to leave the Dormie Network property.
• Winning bidder and their foursome will be able to only utilize Dormie Facilities one time. There will be no year over year bidding on a Stay and Play auction package, and Dormie Network will reserve the right to decline reservations from repeat Stay and Play bidders who are not members of Dormie Network.
• 30 day cancellation policy for all Stay and Play guests. A $250 per night deposit is required to secure lodging and will be applied to guest account for use while on property. If the reservation is cancelled within 15-30 days of the reservation date, the deposit will be subject to forfeiture. If cancelling within 14 days of the reservation date, the deposit will not be refunded and Stay and Play certificate will be forfeited.
Lady Cougar Crossbody Purse with Creighton Men's Basketball Tickets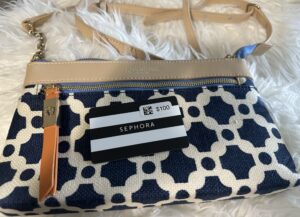 This fashionable Spartina blue cross body with orange accents can be yours. Perfect for Cougar games and all of our upcoming events – Homecoming, Music Bingo, Trivia Night, & Celebration! This purse is LOADED!
• Tickets to a Creighton Men's Basketball game Sec. 109 seats 10 and 11 and parking pass for lot A.
• $100 Sephora gift card.
• Two tickets to the Omaha Symphony.
• Two tickets to the Opera of Omaha.
• Cougar keychain, gift card for an 8-inch Dairy Queen ice-cream cake and other surprise gift cards and items to be revealed as our event approaches!
Donated by Jay Flott, Friends of the Cougar Classic, and Brandi Holys, VP of Advancement
Milwaukee Tools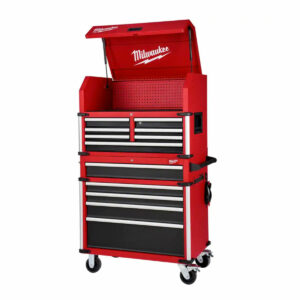 For the handyman, we have a Milwaukee Tools Heavy Duty Storage Chest that is perfect for your garage, in Husker red, and we will arrange delivery.
This 36″ High Capacity Steel Storage Combo is the best-equipped tool storage solution in its class. The tool storage cabinet and chest combo provides you with a reinforced angle iron frame, 1,800 lbs. weight capacity, 18-gauge steel construction, and 5″ industrial-grade casters for superior durability. This rolling tool storage cabinet has 12 drawers, giving you over 27,326 cu. in. of storage space with 100 lbs. rated, soft-close drawer slides for smooth opening and closing. This mobile toolbox offers you a variety of innovative features like our MILWAUKEE® built-in power center with 6 outlets and 2 USB chargers and power tool organizer to maximize your productivity.
Questions? Email our Advancement team at andvancement@gcgmail.org.
---
About Gross Catholic
Gross Catholic, a co-educational, college preparatory high school, began its proud heritage of academic excellence rooted in the Marianist tradition in 1968. We consider ourselves one of the best Catholic schools in Omaha, Bellevue, and Papillion. The school motto Dux Esto ("Be a Leader") is at the core of its extraordinary mission, innovative spirit, and fundamental values. The school offers a challenging environment and outstanding quality of life, both in academics and co-curricular activities, with a strong focus on STREAM (Science, Technology, Religion, Engineering, the Arts, and Mathematics) education. The spirit of Christian service and giving back is part of everything the school does. Gross Catholic's top-tier status is reflected in its talented faculty, staff, and coaches who take great pride in seeing virtually every graduate head to college, often to the most prestigious domestic and international universities and service academies. Together with families and alumni, Gross Catholic forges relationships for a lifetime, helping to ready the next generation to be exemplary, principled leaders of the world.
To discover the Gross Catholic difference, contact us at 402.734.2000 or visit our Admissions page.