All of Our Alumni Are Amazing!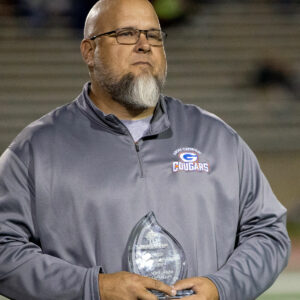 Our Distinguished Alumni Award is presented each year, to an alumnus who has continued to promote our school spirit and demonstrate dedication to our motto, Dux Esto. This year we had several well deserving alumni that were nominated for the award. The following are the nominees for the 2021 Distinguished Alumni Award.
Patrick Nelson, Class of 1998
Scott Riha, Class of 1991
JT Sterba, Class of 2000
2021 Alumni Award Recipient
Please congratulate this year's Distinguished Alumni Award recipient Scott Riha.
Scott's Background
Scott has been bleeding orange and blue since his freshman year at Gross Catholic, in 1987. Scott and his beautiful wife Tristen Riha, class of 1994, have been married for over 25 years. Together they have four children. Emily class of 2017, Christian class of 2019, Grace class of 2024, and future Cougar Lilly is in 7th grade.
G-Crew
Scott has worked at Select Van Mayflower for the last 30 years. He also spends countless hours volunteering with the G-Crew, since its inception over eight years ago. The G-Crew is a group of fathers that share the love of 3 things… their daughters, softball, and Gross Catholic. They prepare and decorate Don and Dave Schrack Softball Field prior to home softball games and clean up afterwards. Scott has also coached the Junior Cougars Football program for seven years.
Cougar Classic Golf Tournament
Scott and his family have chaired the Cougar Classic Golf Tournament for the past eight years. They have assisted in raising hundreds of thousands of dollars for students at Gross Catholic. Scott loves a microphone and his talents can not only be heard at the Cougar Classic, but also at the annual trivia night.
We Are Grateful Distinguished Alumni Award Recipient Scott Riha!
Thank you for your time and commitment to Gross Catholic Scott! Dux Esto!
---
About Gross Catholic
Gross Catholic, a co-educational, college preparatory high school, began its proud heritage of academic excellence rooted in the Marianist tradition in 1968. We consider ourselves one of the best Catholic schools in Omaha, Bellevue, and Papillion. The school motto Dux Esto ("Be a Leader") is at the core of its extraordinary mission, innovative spirit, and fundamental values. The school offers a challenging environment and outstanding quality of life, both in academics and co-curricular activities, with a strong focus on STREAM (Science, Technology, Religion, Engineering, the Arts, and Mathematics) education. The spirit of Christian service and giving back is part of everything the school does. Gross Catholic's top-tier status is reflected in its talented faculty, staff, and coaches who take great pride in seeing virtually every graduate head to college, often to the most prestigious domestic and international universities and service academies. Together with families and alumni, Gross Catholic forges relationships for a lifetime, helping to ready the next generation to be exemplary, principled leaders of the world.
To discover the Gross Catholic difference, contact us at 402.734.2000 or visit our Admissions page.