Innovation at Its Best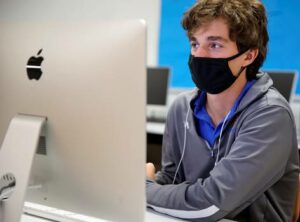 We are proud to announce that Gross Catholic is moving forward with new and innovative opportunities for our students. In the fall of 2021-22, we will be adding Academic Academies to our curriculum offerings. This program is unique because it builds upon our current course offerings and adds dual enrollment options along with a year-long field experience or capstone project.
Health Science Academy
Beginning with Nursing, this track will contain dual enrollment coursework along with a year-long field experience at a hospital. Be sure to check out the Healthcare Academy brochure.
STREAM (Science, Technology, Religion, Engineering, Art, Math)
The STREAM Academy will begin with Math and Computer Science. This track will contain dual enrollment with a year-long Capstone Project. These Academies have a complete plan for students with requirements starting in their freshman year and continuing through their senior year. Classes will be offered at Gross Catholic with the added component of Dual Enrollment and either a year-long Field Experience or a year-long Capstone Project. Please know that these academies have limited space. See Mrs. McNamara to apply and also speak with her if you have any questions. Have you seen the STREAM Academy brochure?
---
About Gross Catholic
One of Nebraska's premier private schools, Gross Catholic High School is a faith and family-based community committed to developing Christian leaders through academic excellence in the Marianist tradition. Recognized locally for its outstanding education, welcoming atmosphere, competitive sports programs, engaging activities, robust faith, and boundless service work, Gross Catholic has energized the Omaha area for over 50 years. Gross Catholic recently received the KVSS Radio Superstar School Award and the Omaha World-Herald Omaha's Choice award for private schools.
To discover the Gross Catholic difference, contact us at 402.734.2000 or visit our Admissions page.