What an Amazing Space!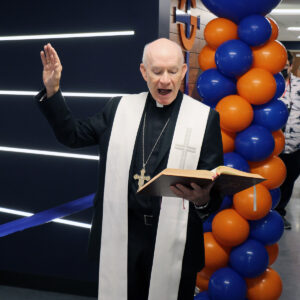 On August 27th, 2021 at 10:30am Gross Catholic held a Ribbon Cutting and Dedication Ceremony for the Innovation Center. Archbishop George Lucas led the dedication and blessing of the center. Gross Catholic's world award-winning and 2021 State Champion robotics team built a robot that cut the ceremonial ribbon.
Partnerships
The Innovation Center supports Gross Catholic's academic vision, expanding partnerships with local universities and organizations for dual college-credit opportunities. Partnerships include the University of Nebraska at Omaha, Creighton University, Bellevue University, Metro Community College, CHI Health and Symphony Workforce's Find the Why. Construction partners included Carlson West Povondra Architects, Hawkins Construction Company, Morrissey Engineering and the Gross Catholic Engineering Team.
Innovation Center: Only the Beginning
Funded entirely through the generosity of donors, the $1.95 million project is the first of a series of upgrades to the school's academic wing. The Mission: Innovation Campaign, started by President Emeritus Dr. Dorothy Ostrowski, has come to fruition with the completion of a nearly 10,000 square foot space. "The Innovation Center, located at the heart of the academic wing, will enhance resources and learning opportunities for all subject areas and extra curriculars," said Vice President of Advancement Stephen Driscoll. "The space, designed for a team atmosphere with moveable furniture and advanced technology, will set the tone for future projects and programs at Gross Catholic," Driscoll said.
Dedicated to Mr. Hamersky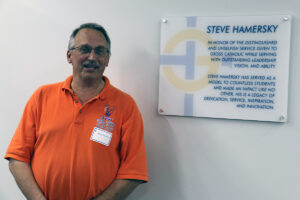 The Innovation Center was dedicated in honor of Steve Hamersky, who has been on faculty at for over 40 years. Gross Catholic honored Hamersky for his distinguished service given to the school community while serving with outstanding leadership, vision, and ability. Hamersky has served as a model to countless students and made an impact like no other.
Keegan Shanahan, a senior at Gross Catholic High School said, "Mr. Hamersky has been a part of my life since 6th grade and I honestly do not think I would have been so successful in high school without his guidance. Mr. Hamersky has taught me so much about STEM and has truly helped me better myself for the future."
Dual Enrollment Learning Academies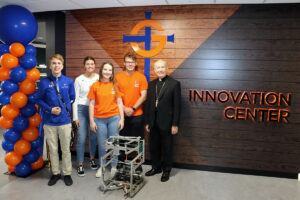 The Innovation Center will also house two new academic academies beginning this month. The STREAM (Science, Technology, Religion, Engineering, Art and Math) Academy and the Health Science Academy.
"The Gross Catholic Innovation Center has helped expand opportunities for our students," Principal Paulette Neuhalfen, said. "It provides a collaborative learning environment that, in partnership with universities, will serve all students and faculty. We are grateful to be able to share it with an extremely driven group of students who are excited to be the first cohort in our academies," Neuhalfen said.
Gross Catholic's new president, Dr. Tom Curry, looks forward to working closely with Ms. Neufalfen, Mr. Driscoll, and the Board of Directors to continue developing new programs and opportunities for students now expanded by the new facility. "This new space is truly innovative because it links the old and the new with the yet-to-come. While no one can predict specific changes in technology and education, change itself is certain. The Innovation Center was created so that students learn the skills of collaborative experimentation and creative adaptation that careers in STREAM demand. It's really a launch pad into the future."
---
About Gross Catholic
Gross Catholic, a co-educational, college preparatory high school, began its proud heritage of academic excellence rooted in the Marianist tradition in 1968. We consider ourselves one of the best Catholic schools in Omaha, Bellevue, and Papillion. The school motto Dux Esto ("Be a Leader") is at the core of its extraordinary mission, innovative spirit, and fundamental values. The school offers a challenging environment and outstanding quality of life, both in academics and co-curricular activities, with a strong focus on STREAM (Science, Technology, Religion, Engineering, the Arts, and Mathematics) education. The spirit of Christian service and giving back is part of everything the school does. Gross Catholic's top-tier status is reflected in its talented faculty, staff, and coaches who take great pride in seeing virtually every graduate head to college, often to the most prestigious domestic and international universities and service academies. Together with families and alumni, Gross Catholic forges relationships for a lifetime, helping to ready the next generation to be exemplary, principled leaders of the world.
To discover the Gross Catholic difference, contact us at 402.734.2000 or visit our Admissions page.