Dedicated to the Founders of the Marianists
Founders' Week is a celebration of the three founders of the Marianist Family, namely, Father Chaminade, Mother Adèle, and Marie Thérèse. The week-long celebration will include moments of fun, prayer, opportunities to come together in worship, and a opportunity to give back.

Our Lady of Nazareth School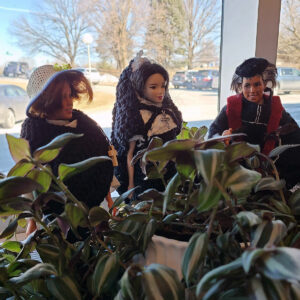 The Marianists have a primary school in Nairobi, Kenya called Our Lady of Nazareth (OLN). Traditionally, Gross Catholic raises money for OLN during Founder's week. It only takes $125 per year to provide tuition, books, and a daily hot meal to sponsor a child at Our Lady of Nazareth. All week long we will be collecting money for our fellow Marianist School Our Lady of Nazareth located in Nairobi Kenya. So dig into your piggy banks an bring us some cash.  If every student were to donate $5  we would be able to sponsor 15 students!
Founder's Week Schedule
All Week Long
The founders will be hidden around the school for people to find
Collecting Money for Our Lady of Nazareth Primary School in Nairobi Kenya
Bake sale!
Chamigrams on sale
Daily Schedule
Monday – No school, Faculty Retreat with Brother Jesse
Tuesday – Marianist or House Shirts with Khakis
Wednesday – Nothing Special
Thursday – $1 Casual Clothes day

Various activities during Homeroom time

Friday – Mass
William Joseph Chaminade was born on April 8, 1761, in Périgueux, France. He was the 14th of 15 children in the family of Blaise Chaminade and Catherine Béthon.
Early in his life, William knew he wanted to consecrate his life to God; he was ordained as a diocesan priest in 1785.
Due to the French Revolution, in 1797, in fear for his life, Chaminade was driven into exile in Saragossa, Spain. There he prayed daily at the shrine of Our Lady of the Pillar, continuing a devotion to the Blessed Mother that was formed in the earliest days of his childhood. During this time in exile, Chaminade conceived of a plan that would sculpt the rest of his life.
When he was able to return to France in 1800, Fr. Chaminade began implementing his vision. He formed small faith communities called sodalities. In a country where there had been no religious instruction for a decade, he believed this would be the most effective way to reignite Christianity.
Powerful, Brave Women
Later, Fr. Chaminade joined forces with Marie Thérèse Charlotte de Lamourous, an intelligent, brave woman who had served in the underground Church during the French revolution. In partnership with Fr. Chaminade, Marie Thérèse helped form and guide the women's sections of the sodalities.
Through friends, Fr. Chaminade came into contact with a young woman named Adèle de Batz de Trenquelléon. Like Chaminade, Adèle was committed to the "mission of Mary." In 1816, with support from Chaminade, Adèle founded the Filles de Marie Immaculée, the Daughters of Mary Immaculate, commonly known as the Marianist Sisters.
Just a year later, a group of male sodalists came to Chaminade with the goal of forming a religious institute under his direction. On October 2, 1817, these faithful men formed the Society of Mary. Like the Marianist Sisters, this congregation was pledged to carrying out Mary's apostolic mission in the world.
In the ensuing decades, Fr. Chaminade's goal of continuing the "mission of Mary" has endured. Today the Marianist Family – brothers, priests, sisters and lay people – continue this mission in more than 30 countries.
We celebrate the founders this week!
---
About Gross Catholic
Gross Catholic, a co-educational, college preparatory high school, began its proud heritage of academic excellence rooted in the Marianist tradition in 1968. We consider ourselves one of the best Catholic schools in Omaha, Bellevue, and Papillion. The school motto Dux Esto ("Be a Leader") is at the core of its extraordinary mission, innovative spirit, and fundamental values. The school offers a challenging environment and outstanding quality of life, both in academics and co-curricular activities, with a strong focus on STREAM (Science, Technology, Religion, Engineering, the Arts, and Mathematics) education. The spirit of Christian service and giving back is part of everything the school does. Gross Catholic's top-tier status is reflected in its talented faculty, staff, and coaches who take great pride in seeing virtually every graduate head to college, often to the most prestigious domestic and international universities and service academies. Together with families and alumni, Gross Catholic forges relationships for a lifetime, helping to ready the next generation to be exemplary, principled leaders of the world.
To discover the Gross Catholic difference, contact us at 402.734.2000 or visit our Admissions page.