New Life!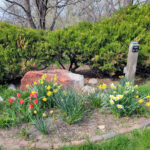 Our geo garden is really coming to life again. The garden in located on the north side of campus, just off of approximately 44th and Margo Street, between the entrance and exit driveways. We welcome everyone to take a walk and enjoy over 70,000 plants! Sit in the gazebo or relax on bench. Additionally, walk the Stations of the Cross. There are so many things to appreciate. You will find daffodils, crocus, tulips, and snowdrops to name a few.
Grant For the Geo Garden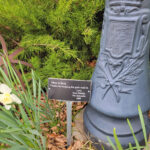 This year we have received another $1000 grant from the Papio-Missouri River Natural Resources District. The money is used to  purchase flowers to plant in the "GHS" located on the hill by the Gross Catholic entrance.
Also, Papio-Missouri River NRD is donating 100 Colorado Blue Spruces and packages of flower seeds to give out for Earth Day. Students or parents can pick these up from the front office, during Earth week (4.19 thru 4.23). Furthermore, please consider sending the NRD a note of thanks. In fact, new this season, next to the gazebo, is an outdoor library box to take a book and/or share a book. They are free to use.
Support the Garden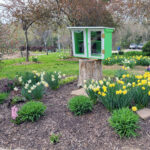 There are several different opportunities to support the arboretum/garden. You can purchase name bricks for $75 (includes up to 3 lines), a bench for $200, trees are $150, your own garden plot is $300, or even a large garden light– $2100. All items personalized with a name plate. Obviously, these items could be a great graduation gift, anniversary gift or a heartfelt memorial.
Another way to get involved is to help tend to the garden. Mr. Rich Carey is working on creating a "Keepers of the Garden" group to help care for each of the gardens.
Please contact Rich Carey at rcare48@cox.net if interested in any of these opportunities.
---
About Gross Catholic
One of Nebraska's premier private schools, Gross Catholic High School is a faith and family-based community committed to developing Christian leaders through academic excellence in the Marianist tradition. Recognized locally for its outstanding education, welcoming atmosphere, competitive sports programs, engaging activities, robust faith, and boundless service work, Gross Catholic has energized the Omaha area for over 50 years. Gross Catholic recently received the KVSS Radio Superstar School Award and the Omaha World-Herald Omaha's Choice award for private schools.
To discover the Gross Catholic difference, contact us at 402.734.2000 or visit our Admissions page.