New Life!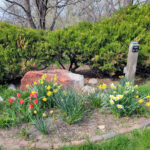 Our geo garden is really coming to life again. The garden in located on the north side of campus, just off of approximately 44th and Margo Street, between the entrance and exit driveways. We welcome everyone to take a walk and enjoy over 70,000 plants! Sit in the gazebo or relax on bench. Additionally, walk the Stations of the Cross. There are so many things to appreciate. You will find daffodils, crocus, tulips, and snowdrops to name a few.
Grant For the Geo Garden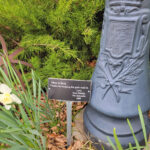 This year we have received another $1000 grant from the Papio-Missouri River Natural Resources District. The money is used to  purchase flowers to plant in the "GHS" located on the hill by the Gross Catholic entrance.
Also, Papio-Missouri River NRD is donating 100 Colorado Blue Spruces and packages of flower seeds to give out for Earth Day. Students or parents can pick these up from the front office, during Earth week (4.19 thru 4.23). Furthermore, please consider sending the NRD a note of thanks. In fact, new this season, next to the gazebo, is an outdoor library box to take a book and/or share a book. They are free to use.
Support the Garden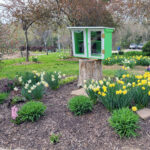 There are several different opportunities to support the arboretum/garden. You can purchase name bricks for $75 (includes up to 3 lines), a bench for $200, trees are $150, your own garden plot is $300, or even a large garden light– $2100. All items personalized with a name plate. Obviously, these items could be a great graduation gift, anniversary gift or a heartfelt memorial.
Another way to get involved is to help tend to the garden. Mr. Rich Carey is working on creating a "Keepers of the Garden" group to help care for each of the gardens.
Please contact Rich Carey at rcare48@cox.net if interested in any of these opportunities.
---
About Gross Catholic
Gross Catholic, a co-educational, college preparatory high school, began its proud heritage of academic excellence rooted in the Marianist tradition in 1968. We consider ourselves one of the best Catholic schools in Omaha, Bellevue, and Papillion. The school motto Dux Esto ("Be a Leader") is at the core of its extraordinary mission, innovative spirit, and fundamental values. The school offers a challenging environment and outstanding quality of life, both in academics and co-curricular activities, with a strong focus on STREAM (Science, Technology, Religion, Engineering, the Arts, and Mathematics) education. The spirit of Christian service and giving back is part of everything the school does. Gross Catholic's top-tier status is reflected in its talented faculty, staff, and coaches who take great pride in seeing virtually every graduate head to college, often to the most prestigious domestic and international universities and service academies. Together with families and alumni, Gross Catholic forges relationships for a lifetime, helping to ready the next generation to be exemplary, principled leaders of the world.
To discover the Gross Catholic difference, contact us at 402.734.2000 or visit our Admissions page.