Laptops, Tablets, Devices
As the very first high school in the area to start a laptop/device program, we have a proud tradition of incorporating technology into our curriculum.
Because we have tremendous pride in our educational technology program, each student is expected to acquire a device or devices to bring to school. We expect the family to have purchased a device no later than July 31st. It is up to each family where they would like to obtain the device.
There are 2 devices that meet all of the educational requirements of the school: a newer laptop or a hybrid laptop/tablet/slate with keyboard and pen. Either of these should be the primary device used by the student. Each device purchased needs to be able to connect to wifi.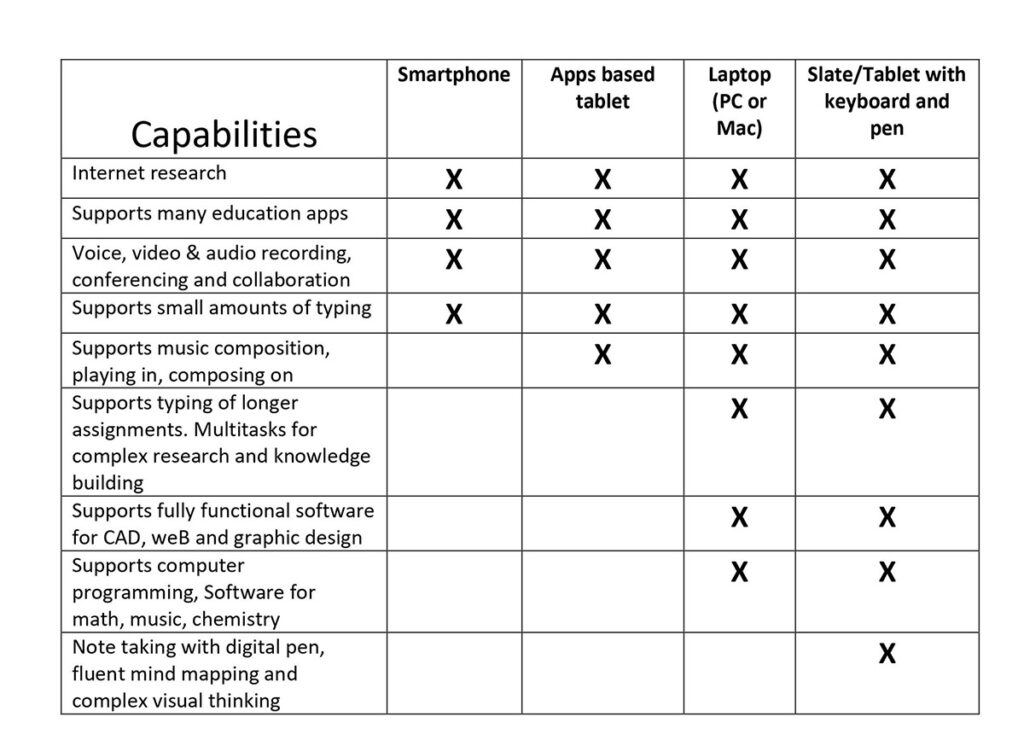 Students may also bring secondary devices to use in the classroom such as an ipad or android tablet with the knowledge that these particular devices may difficult to be used in certain situations, such as typing a long term paper with research.
Each teacher is responsible for letting the students know which devices are suitable for each particular lesson. When devices are in the classroom, it is the responsibility of the student to use the device or devices appropriately for education. Cell phones are normally not allowed to be used in classrooms unless a teacher specifically deems them necessary for a lesson. See the chart above detailing the capabilities of each of these devices.
Support for Technology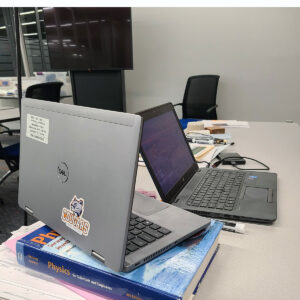 We have a full time device technician on staff. If any device breaks, our technician will diagnose each device and provide a solution. We do not charge for any labor when fixing devices but we do charge for parts.
Windows Environment
We are a Windows environment, but we do allow Macs. They are more difficult to work on, but technician will do his best on any device that he receives. If he cannot fix it (which is rare) he will facilitate repair for you.
Protection for Your Technology
A high school is an environment where devices can easily be damaged. It is up to individual families to decide if they want to acquire accidental damage plans at the time of their purchase. As stated earlier, our technician can repair most anything cheaper and faster than any place in town. Each family may want to set aside some money just in case a device needs repair.
Technology Bag
Additionally, all students need to purchase a device bag on their own for their laptops. The bag should used only for the device and should only have one strap (backpack style laptop bags are not allowed.) Devices other than laptops should have a protective case.
Web Filter
Gross Catholic has a top-notch web filter in place that blocks inappropriate sites. Our web filter does not work outside of school. Parents may want to investigate appropriate web filters for their home network.
Recommendations for Your Technology Purchase
In general, we suggest purchasing a mid-range laptop. Inexpensive laptops usually are too slow and therefore very frustrating to use. If you are really on a budget, some students have gotten by with Chromebooks, but they are limited in what they can do and you will need to figure out work-arounds depending on the teacher or class.
Processors: We only recommend Intel Core Processors. Our experience with AMD processors has not been great. Core i5 makes up the majority of mainstream computers, so an i5 is a safe bet. We do not recommend Core i3. If you want great processors, then move up to i7 or i9.
RAM: 8GB is the minimum. If you run a lot of apps at the same time, 16GB is the way to go. 32GB (or beyond) is usually not needed unless you are a gamer.
Storage: Most laptops now have solid state drives (SSD.) That is what we suggest.
Ports: Your laptop should have more than one USB port.
Please contact Mr. Jim Homan at homan@gcgmail.org if you have any questions or concerns.