A Great Way to Give
There are many ways to give using applications and websites. Your normal purchases can help Gross Catholic High School.
Together a Greater Good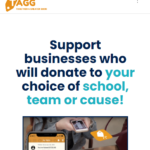 TAGG is "app"-solutely revolutionizing the way you can support your favorite nonprofits, schools, and teams. The free TAGG mobile app allows you to turn everyday purchases from participating businesses into everyday donations. Simply choose which organization you want to support, which business you made a purchase with, and then upload a photo of your receipt within 7days of the transaction. Upon approval, the business donates a percentage at no extra cost to you!
Here's how to sign up for TAGG:
Notably, the free app can be found in the App Store (for iPhones) or in Google Play (for Android phones). Search "Together A Greater Good".
How to Sign up for TAGG
Create an account
Click on the circular tagg icon in the center at the footer
Select Gross Catholic High School as the organization you would like to support.
Select which business your receipt is from. Nearby businesses appear first.
Take a picture of your receipt and optionally share your good deed on social media. Your TAGG is complete and awaiting approval.
Casey's Rewards + Cash for Classrooms
Being Here For Good is in our DNA. That's why Casey's Rewards guest loyalty program includes an easy, ongoing option to earn points from everyday purchases in our stores that can be directed toward a local school donation of choice. With over 36,000 schools across all our communities included, our guests can turn their points into funds to help the school they choose with purchasing supplies, buying new books for the library or other needs.
How to use Casey's Rewards
Initially, download the Casey's app and create an account or you can also create an account at caseys.com.
In order for points to be credited to your Program account balance, you must do the following:
In-Store: For in-store purchases, enter your phone number associated with your Casey's account when prompted on the pin-pad or provide it to the cashier, or, allow the cashier to scan the Casey's Rewards QR code as it appears on your mobile device.
Online: For online/mobile app purchases, you must be logged-in to your Casey's account when making the purchase, and any eligible points automatically post to your account.
At the Pump: If purchasing fuel at the pump, enter your phone number associated with your Casey's account when prompted on the fuel dispenser.
Phone: For purchases over the phone, provide your phone number associated with your Casey's account.
Earn 10 points per $1 spent in-store or online, and earn 5 points for every gallon at the pump.
Redeem 250 points for a $1 school donation, with each additional 50 points representing an additional $0.20 donation. Choose Daniel J Gross Catholic High School. After you redeem your points, the applicable rewards balance appear in your Program account until they are used or they expire.
Bakers Community Rewards
The Kroger Family of Companies is committed to community engagement, positive social impact and charitable giving at the national and local levels. Every community is unique, but our common goal is to partner with the neighborhoods we serve and help the people there live healthier lives.
One of the ways in which this is done is through our Baker's Community Rewards program. This program makes fundraising easy by donating to local organizations based on the shopping you do every day. Once you link your Card to an organization, all you have to do is shop at Baker's and swipe your Shopper's Card.
Here's How to Give
Create a digital account.

A digital account is needed to participate in Baker's Community Rewards. If you already have a digital account, simply link your Shopper's Card to your account so that all transactions apply toward the organization you choose.

Link your Card to an organization.

Selecting the organization that you wish to support is as simple as updating the Baker's Community Rewards selection on your digital account.

Sign in to your digital account.
Search for your organization here..
Select Gross Catholic High School from the list and click "Save".
Your selected organization also displays in the Baker's Community Rewards section of your account.

If you need to review or revisit your organization, you can always do so under your Account details.
Your Organization Earns
Any transactions moving forward using the Shopper's Card number associated with your digital account is applied to the program, at no added cost to you. Baker's donates annually to participating organizations based on your percentage of spending as it relates to the total spending associated with all participating Baker's Community Rewards organizations.