Mr. Jim Homan Is Our 2022 Hall of Fame Honoree
Hall of Fame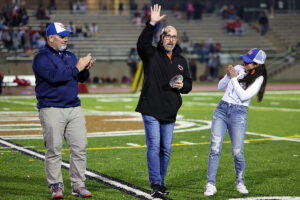 Each year Gross Catholic honors a member of our faculty or staff (past or present) who has made outstanding contributions to our school community with our Hall of Fame Award. This year's Faculty/Staff Hall of Fame Award recipient is Mr. Jim Homan. Homan will receive this prestigious award during halftime of the Homecoming football game.
Three Decades
Mr. Jim Homan began working at Gross Catholic over three decades ago. During his time as a Cougar, Jim spent many years in the classroom, teaching Theology and Web Development. He transitioned out of the classroom in 2015 and currently oversees the school website, the school information system, plus all social media accounts.
Outstanding Credentials
Jim earned his Bachelor of Arts degree with a major in Theology and a Masters of Ministry from Creighton University.
Coach and Moderator
He spent years as the Head Coach of the Girls Soccer team and as the Student Council moderator and really enjoyed both of those experiences. He retired from coaching and moderating in 2020.
Family
Homan and his late wife Darci have two daughters, Alex and Kenzie. Both are graduates of Gross Catholic and are currently studying to get their doctorates.
Interests
In his spare time, he enjoys watching soccer, walking, yoga, and traveling, especially to Nashville, Tennessee.
Proud to be a Gross Catholic Cougar
Mr. Jim Homan told us that he has great pride in being a part of the Cougar family over the years as a teacher, coach, moderator, and friend. He said it has been a privilege to have served this community. He wants to thank everyone for this honor.
What You May Have Missed
Follow Us on Social Media!
---
About Gross Catholic
Gross Catholic, a co-educational, college preparatory high school, began its proud heritage of academic excellence rooted in the Marianist tradition in 1968. We consider ourselves one of the best Catholic schools in Omaha, Bellevue, and Papillion. The school motto Dux Esto ("Be a Leader") is at the core of its extraordinary mission, innovative spirit, and fundamental values. The school offers a challenging environment and outstanding quality of life, both in academics and co-curricular activities, with a strong focus on STREAM (Science, Technology, Religion, Engineering, the Arts, and Mathematics) education. The spirit of Christian service and giving back is part of everything the school does. Gross Catholic's top-tier status is reflected in its talented faculty, staff, and coaches who take great pride in seeing virtually every graduate head to college, often to the most prestigious domestic and international universities and service academies. Together with families and alumni, Gross Catholic forges relationships for a lifetime, helping to ready the next generation to be exemplary, principled leaders of the world.
To discover the Gross Catholic difference, contact us at 402.734.2000 or visit our Admissions page.