Boost the Cougars!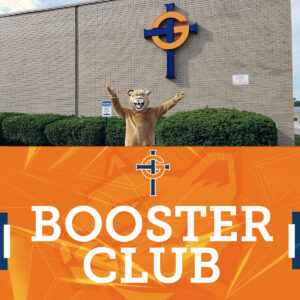 First, the purpose of the Gross Catholic Booster Club is to unite parents, coaches, faculty, staff, alumni, and the community to support the Gross Catholic students and staff with their activities.
Next, it's important to realize that we are a Marianist school. Marianists are famous for their hospitality. We want the Booster Club to be a very welcoming place for all, especially new parents.
We usually meet in the Gross Catholic Media Center the 2nd Wednesday during odd months of the year. Beginning with a hospitality hour at 6:30 PM, the meeting starts at 7:00 PM.
Membership – Join the Club!
The Booster Club is made up of current parents & family members, alumni, parents & family members of alumni, faculty & staff, and more. our meetings and events are open to all, but membership has its privileges. Most importantly, only members can cast votes, including helping to decide how the club distributes money from the Cougar 500 Club Calendar proceeds. We would enjoy having you be a part of the club, not to mention helping us achieve our mission. Join today!
$50 Winners 2023-2024!
9/15/2022, Mr. and Mrs. Travis Tangeman
9/22/2022, Bernie & Linda Meyers
9/29/2023, Jeff Pospichal
10/3/2023, John Blunck
10/6/2023, Jenni Vankat
10/13/2023, Monica Davis
10/20/2023, Robb Huck
10/22/2023, Janet Van Haute
10/27/2923, Charles Monico Jr.
11/3/2023, Todd Middleton
11/10/2023, Stephen Alvey
Best of luck to everyone.