Boost the Cougars!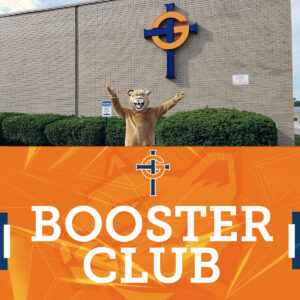 First, the purpose of the Gross Catholic Booster Club is to unite parents, coaches, faculty, staff, alumni, and the community to support the Gross Catholic students and staff with their activities.
Next, it's important to realize that we are a Marianist school. Marianists are famous for their hospitality. We want the Booster Club to be a very welcoming place for all, especially new parents.
We usually meet in the Gross Catholic Media Center the 2nd Wednesday during odd months of the year. Beginning with a hospitality hour at 6:30 PM, the meeting starts at 7:00 PM.
Membership – Join the Club!
The Booster Club is made up of current parents & family members, alumni, parents & family members of alumni, faculty & staff, and more. our meetings and events are open to all, but membership has its privileges. Most importantly, only members can cast votes, including helping to decide how the club distributes money from the Cougar 500 Club Calendar proceeds. We would enjoy having you be a part of the club, not to mention helping us achieve our mission. Join today!
Cougar 500 Club Calendar
Every Fall, the Gross Catholic Booster Club publishes the 500 Club Calendar.  Additionally, the calendar can only be purchased up until the Homecoming Football game.
You can purchase one now, and you may win $1000 or more! See the winners below. Also, be sure to check the Gross Catholic Facebook or Twitter pages for the weekly winners.
$50 Winners 2022-2023!
9/23/2022, Mary Sporcic
9/30/2022, Jennifer Peters
10/03/2022, Beth Nilson
10/07/2022, Jim & Dorothy Riha
10/14/2022, Shepoka Family
10/21/2022, Craig Labs
10/22/2022, Dan & Kris Placzek
10/28/2002, Paul Casart
11/04/2022, Bob Stutzman
11/11/2022, Eric Wieczorek
11/18/2022, Lynne & Rich Laux
11/25/2022, Kathy Moritz Byrnes.
12/02/2022,

Jake & Morganne Barrientos.

12/09/2022,

Katie Chonis

12/16/2022, Cory & Becky Billings
12/23/2022, Doug & Cathy Earnest
12/30/2022, Mary Wright
1/6/2023, Chris Zeleny
1/13/2023, Dora Carrera
1/20/2023, Felix Carrera-Rios
1/22/2023, Kevin & Mary Duffy
1/27/2023, Jodi Groski
2/3/2023, Michael Zoucha
2/10/2023, Nancy Langenfeld
2/11/2023, Stephanie Kremla
2/13/2023, Machaela Casart
2/17/2023, Walt & Mary Ann Ernesti
2/24/2023, Dan Grzywa
3/3/2023, Brenda Achterhoff
3/10/2023, TJ Moore
3/17/2023, Lloyd & Jeanne Mill
3/24/2023, Chuck & Kathy Monico
3/31/2023, Joyce Stranglen
4/7/2023, Linda Miller
4/14/2023, Sean Martin
4/21/2023, Rev. Frank Baumert
4/28/2023, Pepper Germany
5/5/2023, Dale Schwalm
5-12-2023, Cris Herek
5-19-2023, Karen Connelly
5/26/2023, Kathy O'Donnell
6/2/2023, Chuck & Teresa Dorwart
Good luck to everyone.