Boost the Cougars!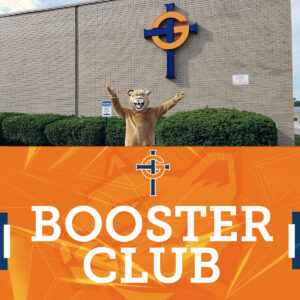 First, the purpose of the Gross Catholic Booster Club is to unite parents, coaches, faculty, staff, alumni, and the community to support the Gross Catholic students and staff with their activities.
Next, it's important to realize that we are a Marianist school. Marianists are famous for their hospitality. We want the Booster Club to be a very welcoming place for all, especially new parents.
We usually meet in the Gross Catholic Media Center the 2nd Wednesday during odd months of the year. Beginning with a hospitality hour at 6:30 PM, the meeting starts at 7:00 PM.
Membership – Join the Club!
The Booster Club is made up of current parents & family members, alumni, parents & family members of alumni, faculty & staff, and more. our meetings and events are open to all, but membership has its privileges. Most importantly, only members can cast votes, including helping to decide how the club distributes money from the Cougar 500 Club Calendar proceeds. We would enjoy having you be a part of the club, not to mention helping us achieve our mission. Join today!
Cougar 500 Club Calendar
Every Fall, the Gross Catholic Booster Club publishes the 500 Club Calendar.  Additionally, the calendar can only be purchased up until the Homecoming Football game.
You can purchase one now, and you may win $1000 or more! See the winners below. Also, be sure to check the Gross Catholic Facebook or Twitter pages for the weekly winners.
$50 Winners 2021-2022!
9/24/2021, Jeff Driscoll
10/01/2021, Mike Renner
10/03/2021, Kelly Linder
10/08/2021, Angie Sterba
10/15/2021, Shawn Carr
10/22/2021, Georgeann Baxter
10/22/2021, Tish Simpson
10/29/2021, Kyle Labs
11/5/2021, Chris Dorwart
11/12/2021, Paul & Mary Parr
11/19/2021, Steve Hamersky
11/26/2021, Kevin Manning
12/3/2021, Kevin & Colleen McCoy
12/10/2021, Janet Ficenec
12/17/2021, Trisha Ryder
12/24/2021, James Dempsey
12/31/2021, Chuck and Marlo Monico
1/7/2022, Jim & Jean Theiler
1/14/2022, Mary Ann Ernesti
1/21/2022, Joan Klein
1/22/2022, Matt Parr
1/28/2022, Dave Carroll
2/4/2022, Paulette Neuhalfen
2/11/2022, Valerie & Mike Conzett
2/11/2022, Luke & Marcia Galardi
2/13/2022, Rev. Frank Baumert
2/18/2022, Jodi Mouw
2/25/2022, Brian Waldron
3/4/2022, Heather Wonderlich
3/11/2022, Hugh Huck
3/18/2022, Jim & Jean Theiler
3/25/2022, Jim & Betty Adam
4/1/2022, Teresa Dorwart
4/8/2022, Dan Balis
4/15/2022, Cameron Van Haute
4/22/2022, August Haug
Good luck to everyone.