A Special Guest with an Inspiring Story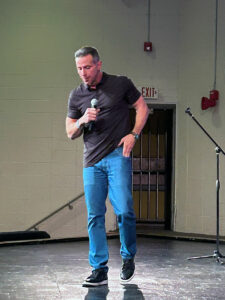 On Wednesday, November 15th, Gross Catholic High School had the honor of welcoming Damon West as a guest speaker. Parents and friends were also invited to attend this special event.
West has an incredible story of personal transformation that he now shares with audiences around the world. The former college quarterback once faced a bleak future, sentenced to life in a Texas maximum-security prison. However, West took control of his life and mindset, using his time in prison to further his education and emerge as a new person. Now a professor, keynote speaker, and author of multiple bestselling books, he aims to inspire others towards positive change.
An Empowering Message
During his presentation, West shared empowering insights from his books like The Coffee Bean and The Change Agent.
Energy is Contagious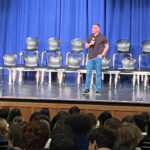 We have the power to infect a room with either negative or positive energy through our attitudes and behaviors. Our belief systems directly impact the type of energy we exude. By being mindful of our personal energy, we can uplift those around us.
Adversity Builds Strength
Challenging times are inevitable in life. West encouraged us to view these "fork-in-the-road moments" as opportunities to build mental strength. While we cannot control external events, we can control how we respond to adversity. Developing resilience and a "never give up" attitude allows us to overcome life's hurdles.
The Importance of Faith and Service
Having hope and faith establishes a foundation on which to build a purposeful life. The speaker challenged us to nurture our faith through daily prayer and spiritual practices. Dedicating ourselves to service and helping others is another way to find meaning.
Control Your Mindset, Transform Your Environment
We have the power to control our thoughts, words, feelings, and actions – and in doing so, positively impact our environment. By taking responsibility for our personal energy and mindset, we can turn challenges into opportunities for growth.
The past does not define you. Let go of past mistakes, find lessons in them, and move forward with optimism for the future. Motivation fueled by integrity and service to others will help you reach your highest potential.
An Exciting Opportunity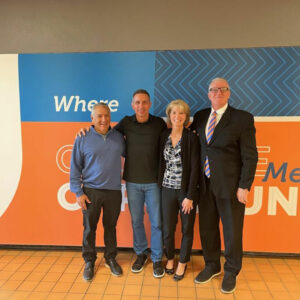 Having Damon West speak at Gross Catholic was an exciting opportunity for students and staff to hear from someone who has overcome incredible odds. His story and message motivated our students to believe in their ability to create positive change, even in the face of adversity.
Many thanks to Jeff Moore '82 and Geri (Finney) Moore '83 who sponsored this event for Gross Catholic.
What You May Have Missed
Follow Us on Social Media!
---
About Gross Catholic
Gross Catholic, a co-educational, college preparatory high school, began its proud heritage of academic excellence rooted in the Marianist tradition in 1968. We consider ourselves one of the best Catholic schools in Omaha, Bellevue, and Papillion. The school motto Dux Esto ("Be a Leader") is at the core of its extraordinary mission, innovative spirit, and fundamental values. The school offers a challenging environment and outstanding quality of life, both in academics and co-curricular activities, with a strong focus on STREAM (Science, Technology, Religion, Engineering, the Arts, and Mathematics) education. The spirit of Christian service and giving back is part of everything the school does. Gross Catholic's top-tier status is reflected in its talented faculty, staff, and coaches who take great pride in seeing virtually every graduate head to college, often to the most prestigious domestic and international universities and service academies. Together with families and alumni, Gross Catholic forges relationships for a lifetime, helping to ready the next generation to be exemplary, principled leaders of the world.
To discover the Gross Catholic difference, contact us at 402.734.2000 or visit our Admissions page.