All-State Band Honorees
Each year, approximately 3,000 of the best high school musicians in the state audition for the Nebraska All-State Band, Chorus, Jazz Band and Orchestra, sponsored by the Nebraska Music Education Association. Selection as a member of one of these groups is one of the highest music honors attainable in Nebraska.
Anna and Amy Selected
Mr. Dan Sodomka, Director of Band Affairs for the Nebraska Music Education Association, is pleased to announce that Gross Catholic senior Anna Dho and freshman Amy Dho will be among the 161 students selected to be a part of the 2022 All-State Band. Guest conductor for the group will be Dr. Cynthia Johnston Turner, Dean—Faculty of Music at Wilfrid Laurier University in Waterloo, Ontario.
Anna and Amy Hail from South Korea
Sisters, Anna and Amy, moved to the US four years ago from Busan, South Korea. Anna has been playing the flute since she was nine years old and had ambitions of joining her grade school youth orchestra in Busan. She stated "The orchestra looked great playing their instruments as a large group of about 80 people, and I wanted to be one of those who make great harmony. I auditioned and was selected to play with the orchestra when I was 10."
The Strengths of the Dhos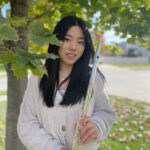 Anna believes one of her strengths is that she has a good ability to interpret songs. "Understanding the song's mood and the composer's intentions makes me a better performer. And I try to convey the feelings of the music to listeners," she said.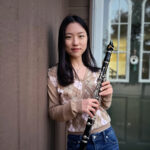 Freshman Amy Dho has been playing the clarinet for the past five years. Amy attended one of her sister's orchestra performances and loved the uniformity and sound from the musicians and aspired to play in the orchestra as well. Patience and perseverance are Amy's strengths, validated by her countless hours of practicing for the All-State Band audition. She explains "I kept practicing until my body remembered the song without focusing on the music, so during the audition I could play with fewer mistakes".
All-State Rehearsals and Concert
The band will rehearse Wednesday, November 16th through Friday, November 18th on the University of Nebraska-Lincoln campus, the host site of the 2022 NMEA Conference/Clinic. A final public concert will be held on Friday, November 18th, 7:30 p.m. at the Lied Center for the Performing Arts on the University of Nebraska-Lincoln campus.
All-State Cougar Congrats
The Cougar Family offers their sincere congratulations to Ann and Amy on making All-State Band. We are so proud of you!
What You May Have Missed
Follow Us on Social Media!
---
About Gross Catholic
Gross Catholic, a co-educational, college preparatory high school, began its proud heritage of academic excellence rooted in the Marianist tradition in 1968. We consider ourselves one of the best Catholic schools in Omaha, Bellevue, and Papillion. The school motto Dux Esto ("Be a Leader") is at the core of its extraordinary mission, innovative spirit, and fundamental values. The school offers a challenging environment and outstanding quality of life, both in academics and co-curricular activities, with a strong focus on STREAM (Science, Technology, Religion, Engineering, the Arts, and Mathematics) education. The spirit of Christian service and giving back is part of everything the school does. Gross Catholic's top-tier status is reflected in its talented faculty, staff, and coaches who take great pride in seeing virtually every graduate head to college, often to the most prestigious domestic and international universities and service academies. Together with families and alumni, Gross Catholic forges relationships for a lifetime, helping to ready the next generation to be exemplary, principled leaders of the world.
To discover the Gross Catholic difference, contact us at 402.734.2000 or visit our Admissions page.