So Many Distinguished Alumni!
Gross Catholic is fortunate to have so many amazing alumni living out our motto "Dux Esto," not only in the Cougar Community but also within our city, country and world. The candidates below are nominated by their peers for this award. Please take a moment to read each of the nominations and then select one to be awarded the 2021 Distinguished Alumni Award.
Patrick Nelson DPM '98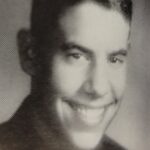 Dr. Nelson has exemplified the Dux Esto motto throughout his life. He is an excellent leader in his clinic and the operating room to ensure the best outcome for his patients. He also serves as a leader in the success of his private practice. Patrick is currently the Vice President of the Foot and Ankle Center of Nebraska and Iowa. Dr. Nelson also serves as an adjunct professor through the College of Podiatric Medicine and Surgery at Des Moines University. He teaches and mentors young students studying in their third year. He leads the profession of podiatry with multiple publications and peer-reviewed medical journals as well as presentations in both local and regional educational events.
Scott Riha '91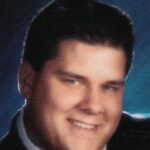 Scott has bled "Orange and Blue" since his days at Gross Catholic. He has exemplified the "Dux Esto" motto by volunteering his time at many Gross Catholic events. For the past 8 years he, along with his family, have chaired the Cougar Classic Golf Tournament. Scott takes this roll seriously and has increased revenue raised by recruiting the maximum amount of golfers allowed at the event. The money raised directly impacts the students of Gross Catholic in many ways. The morning of the Cougar Classic he also enjoys showing pride in his alma mater by painting the famous "G" logo, on a hill, at the golf course.
Additionally, Scott, along with the rest of the "G Crew", volunteer hours of their time preparing the softball field every fall season. He is always in the stands at sporting events cheering on his children and fellow Cougars. He is truly proud to be a part of the Cougar Community.
Jason "JT" Sterba '00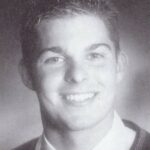 JT has been coaching football for Gross Catholic for over 15 years. He is extremely involved with St. Thomas More School and Parish. He serves on multiple committees for the school as well as the parish. JT is a firefighter for the City of Omaha. With OFD, he is a huge supporter of the Muscular Dystrophy Association. JT coordinates multiple events for MDA through OFD and has previously been awarded volunteer of the year for MDA. On top of all of this, JT is a father to four boys and loves coaching their sports teams!
Join us during halftime at the Homecoming Football game on Friday, September 24th to find out who will be awarded the 2021 Distinguished Alumni Award.
---
About Gross Catholic
Gross Catholic, a co-educational, college preparatory high school, began its proud heritage of academic excellence rooted in the Marianist tradition in 1968. We consider ourselves one of the best Catholic schools in Omaha, Bellevue, and Papillion. The school motto Dux Esto ("Be a Leader") is at the core of its extraordinary mission, innovative spirit, and fundamental values. The school offers a challenging environment and outstanding quality of life, both in academics and co-curricular activities, with a strong focus on STREAM (Science, Technology, Religion, Engineering, the Arts, and Mathematics) education. The spirit of Christian service and giving back is part of everything the school does. Gross Catholic's top-tier status is reflected in its talented faculty, staff, and coaches who take great pride in seeing virtually every graduate head to college, often to the most prestigious domestic and international universities and service academies. Together with families and alumni, Gross Catholic forges relationships for a lifetime, helping to ready the next generation to be exemplary, principled leaders of the world.
To discover the Gross Catholic difference, contact us at 402.734.2000 or visit our Admissions page.