Everything Our Current Parents Needs to Know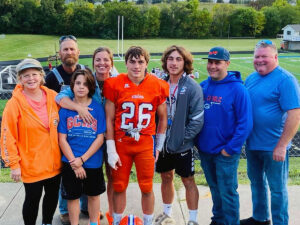 Here is an ever changing list of links for our current parents, from Booster Club to textbooks and everything in between.  For additional information, please check out our News section.
Fall Sports Parents meeting! Sunday, August 7th at 7pm. Enter using the west commons door. All parents of students who plan to tryout for a fall sport or activity need to attend this meeting.
Our student handbook is required reading! It's contains just about everything that parents and students need to know about our policies and guidelines. Be sure to read it. There is a test on Monday!
Need to buy school uniforms? See Dennis Uniforms website.
Searching for what textbooks to purchase? Find out how to order textbooks for the year.
Do you need athletic forms? Be sure to check out our blog post about what forms are needed.
Searching for our new school information system? It is called FACTS.
Looking for fall sports tryout info? View the schedule now.
Freshmen retreat and Junior retreat information is now available.
Do you want to know when the next game is or what activities are happening? Check out our school calendar page. You can also go to the River Cities Conference Calendar Page.
Go to our Booster Club page to learn about the club and purchase a calendar.
Do you need to pay tuition this year? Jump to the FACTS site, select Parent Login on the top right, and then Payment Plans/Financial Aid.
Want help paying for tuition? TAGG has a program that helps!
Learn more about our Scholarships and Grants.
Looking for our Spirit Store? There is a link to the store at the bottom of every page.
Ordering a yearbook? Head to yearbookforever.com, search for "Gross Catholic" and we pop right up.
Graduation announcements ordering? Contact Troy Graves at troygraves@gravesgraduation.com.
Feeling generous? Go to our Donate Now page.
We do not have a standard school supply list like many grade schools and middle schools do. To prepare for school, students can get the basics such as pens, paper, notebooks, and loose leaf binders. When school starts, each teacher will let the student know what they need during the first few days of class.
Need to contact a faculty or staff member? Fill out the Contact Us form and we will make sure that they get it.
Do you need to request a transcript? Please go to our Request a Transcript page.
Looking for our Bell Schedule? There is a link at the bottom of every page. 👇
Searching for our social media sites? You can find those icons at the bottom of every page. 👇
For your convenience, our address and contact info is at the bottom of every page.👇
---
About Gross Catholic
Gross Catholic, a co-educational, college preparatory high school, began its proud heritage of academic excellence rooted in the Marianist tradition in 1968. We consider ourselves one of the best Catholic schools in Omaha, Bellevue, and Papillion. The school motto Dux Esto ("Be a Leader") is at the core of its extraordinary mission, innovative spirit, and fundamental values. The school offers a challenging environment and outstanding quality of life, both in academics and co-curricular activities, with a strong focus on STREAM (Science, Technology, Religion, Engineering, the Arts, and Mathematics) education. The spirit of Christian service and giving back is part of everything the school does. Gross Catholic's top-tier status is reflected in its talented faculty, staff, and coaches who take great pride in seeing virtually every graduate head to college, often to the most prestigious domestic and international universities and service academies. Together with families and alumni, Gross Catholic forges relationships for a lifetime, helping to ready the next generation to be exemplary, principled leaders of the world.
To discover the Gross Catholic difference, contact us at 402.734.2000 or visit our Admissions page.