Everything Our Current Parents Needs to Know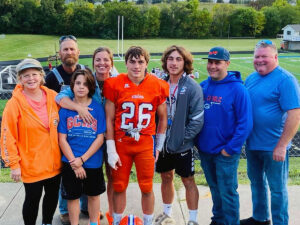 Here is an ever changing list of links for our current parents, from Booster Club to textbooks and everything in between.  For additional information, please check out our News section.
Do you want to know when the next game is or what activities are happening? Check out our school calendar page. You can also go to the River Cities Conference Calendar Page.
Go to our Booster Club page to learn about the club and purchase a calendar.
Need to buy school uniforms? See Dennis Uniforms website.
Searching for what textbooks to purchase? Find out how to order textbooks for the year.
Feeling generous? Go to our Donate Now page.
We do not have a standard school supply list like many grade schools and middle schools do. To prepare for school, students can get the basics such as pens, paper, notebooks, and loose leaf binders. When school starts, each teacher will let the student know what they need during the first few days of class.
Are you looking for information about tryouts? Find out all you need in this document.
Do you need athletic forms? Be sure to check out our blog post about what forms are needed.
Need to contact a faculty or staff member? Find them on our Faculty & Staff page in our About section.
Do you need to request a transcript? Please go to our Request a Transcript page.
Looking for our Bell Schedule? There is a link at the bottom of every page. 👇
Searching for our social media sites? You can find those icons at the bottom of every page. 👇
For your convenience, our address and contact info is at the bottom of every page.
---
About Gross Catholic
One of Nebraska's premier private schools, Gross Catholic High School is a faith and family-based community committed to developing Christian leaders through academic excellence in the Marianist tradition. Recognized locally for its outstanding education, welcoming atmosphere, competitive sports programs, engaging activities, robust faith, and boundless service work, Gross Catholic has energized the Omaha area for over 50 years. Gross Catholic recently received the KVSS Radio Superstar School Award and the Omaha World-Herald Omaha's Choice award for private schools.
To discover the Gross Catholic difference, contact us at 402.734.2000 or visit our Admissions page.