Honoring Leaders, Learning and Legacy!
Lauren Kosse, Class of 2026, Awarded the Mark Kaipust and Taylor Kaipust Memorial Scholarship
A shared commitment to faith, service, leadership and education has bridged a nearly 30-year gap between Gross Catholic alumnus, Mark Kaipust (class of 1998) and incoming freshman, Lauren Kosse (class of 2026).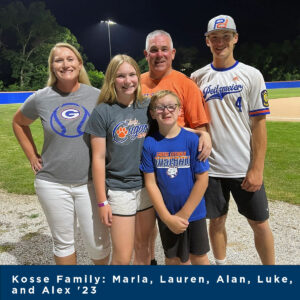 Kosse was announced as the inaugural recipient of the Mark Kaipust & Taylor Kaipust Memorial Scholarship, a scholarship dedicated to honoring the legacy of Mark Kaipust and his son, Taylor. Mark was known as a genuinely loyal person who demonstrated great patience and a positive attitude. He lived out his mission as a Christian by serving others with his many talents and abilities.
Mrs. Kaipust Appreciates the Opportunity
Jamie Kaipust, Mark's wife and Taylor's Mom, appreciates the opportunity the scholarship provides to Gross Catholic students and the tribute it pays to Mark and Taylor.
"I love that this scholarship was started. Mark wanted nothing more than to achieve his own educational goals and help others achieve them as well. I can still hear him in the other room saying 'trust the process.' At the same time I'm sad to know Taylor never got the opportunity these kids will have, but I know Taylor wouldn't be sad, he always wanted the best for everyone. He had such a beautiful heart and wanted to help people in big ways. Like inventing a cure for autism, and in small ways like making someone laugh. I hope the scholarship fund grows and expands to give kids a great opportunity and give more an opportunity to achieve their dreams and pay tribute to who Mark was and who Taylor aspired to be."
Kosse Rose to the Top
Kosse, rose to the top of nearly 30 scholarship applicants by articulating how she would live out the same values during her time at Gross Catholic.
"To be the kind of leader Mr. Kaipust would encourage his son to be, I will actively participate in all kinds of high school youth groups such as LIFE, student council, softball and basketball, remain active in my home church community, and continue volunteering with veterans at the V.A. Hospital to help with my future career goals. I believe this kind of involvement and positivity by many of my new Gross classmates will make our high school continue to thrive and grow. It sends a message that Cougars have leadership and courage and aren't afraid to tackle new challenges whatever they may be," Kosse wrote.
Continue reading below, after the donation form,  in order to learn more about Lauren, her parents Marla and Alan Kosse and the Mark Kaipust and Taylor Kaipust Memorial Scholarship.
Contribute to the Mark Kaipust and Taylor Kaipust Memorial Scholarship
If the form is having trouble loading, try this link.
Q & A with the Kosses
Lauren- how did you feel when you received the news that you were selected?
When I received the news that I was selected for the scholarship, I felt surprised that people liked my essay. I was so excited! But, I feel lots of things, really. I feel a big responsibility to carry on some of the characteristics of two people. I feel proud to commemorate them and feel humbled to be the person chosen to honor them.
Marla and Alan- how does it feel knowing Lauren was selected as the scholarship recipient?
As parents, we feel honored that our daughter, Lauren, has been chosen to represent the Kaipust family through this scholarship. When Lauren first was notified, we felt an immediate sense of unworthiness and sadness for what the Kaipust family went through—the whole reason behind the scholarship. We remember the day Mark and Taylor died. We were traveling to the same place. And, we pray for their family. At the same time, we feel sincere appreciation at the opportunity Lauren has been given to pay tribute to the family through this scholarship.
Is there anything you would like to say/share with the Kaipust family and the scholarship contributors?
Lauren: Thank you for giving me the opportunity to honor Mark and Taylor through my work at Gross and for providing funds to put towards my education.
Marla and Alan: First and foremost, we are sorry for your loss—our deepest sympathy on the loss of Mark and Taylor. Thank you for helping Lauren with her educational path. We appreciate your generosity to assist our family with tuition, but also your continued support of Gross Catholic.
We know Lauren has many things she hopes to accomplish at school over the next four years. She feels a duty toward being a good student as well as fulfilling her role of being leader and a role model for others. Thank you for assisting in that.
Details of the Scholarship
1. Kaipust Memorial applicants must embody the qualities and characteristics Mark lived out each and every day – patience, positivity, leadership and service to others.
2. Applicants will submit a 200 word essay on the following prompts: 'What does positive leadership look like in the high school environment and how can it lead to positive change?'
3. Applicants will provide a character reference from a non-family member. Reference should include first name, last name and email address
Applications for next Kaipust Memorial Scholarship will be available in the Spring of 2023. Contact the Admissions Office for more information.
What You May Have Missed
Follow Us on Social Media!
---
About Gross Catholic
Gross Catholic, a co-educational, college preparatory high school, began its proud heritage of academic excellence rooted in the Marianist tradition in 1968. We consider ourselves one of the best Catholic schools in Omaha, Bellevue, and Papillion. The school motto Dux Esto ("Be a Leader") is at the core of its extraordinary mission, innovative spirit, and fundamental values. The school offers a challenging environment and outstanding quality of life, both in academics and co-curricular activities, with a strong focus on STREAM (Science, Technology, Religion, Engineering, the Arts, and Mathematics) education. The spirit of Christian service and giving back is part of everything the school does. Gross Catholic's top-tier status is reflected in its talented faculty, staff, and coaches who take great pride in seeing virtually every graduate head to college, often to the most prestigious domestic and international universities and service academies. Together with families and alumni, Gross Catholic forges relationships for a lifetime, helping to ready the next generation to be exemplary, principled leaders of the world.
To discover the Gross Catholic difference, contact us at 402.734.2000 or visit our Admissions page.