Gaby Gandara is a QuestBridge National College Match Award Winner!
Senior Gaby Gandara recalled sitting looking at her iPad with her mom while she waited to receive news that would have a tremendous impact on her future.
The Early Years at Gross Catholic
Early in high school, Gaby didn't think her family would ever be able to afford college and doubted herself academically. After her freshman year, Gaby transferred to Gross Catholic. She was familiar with the school and knew several students. Gaby knew, based on how kind the students were, that she would find an accepting and welcoming environment at Gross.
As she adjusted to a new setting, her friends from Gross Catholic and their families helped her branch out and learn more about possible college and career opportunities. She was also encouraged by her teachers to take advanced placement and honors classes. "I have been highly challenged at Gross, and therefore, I discovered that my academic capabilities have no limits. I can always be pushed further than I think or believe" Gaby said. She began to build confidence for what she was capable of and decided college was the next step for her after high school.
Gaby's Junior and Senior Year
At the beginning of her junior year, Gaby started researching possible college scholarships. She found the QuestBridge National Scholars Network and decided to apply. QuestBridge is a national nonprofit based in Palo Alto, California that connects the nation's most exceptional, low-income youth with exceptional colleges. Gaby shared the potential opportunity with her guidance counselor, Mrs. Julie McNamara. McNamara helped guide Gaby as she completed numerous steps in the application process, including connecting with her top colleges junior year and submitting essays and recommendation letters her senior year. Gaby eventually was named a QuestBridge National College Match Finalist. Now, all she had to do was wait and see if she received a full ride to a college that she was determined to attend.
The Defining Moment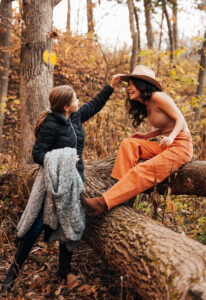 The date finally arrived when she would find out if she would be matched with one of her top college choices. Looking at the screen, she reached for the button and hesitated. She looked at her mom. She even looked at her dog sitting there. And then she pressed the button. Suddenly, the screen filled with confetti! Yes! Princeton University awarded her a full ride for four years of tuition, room and board, transportation expenses and more. Gaby started screaming and jumping up and down with her mom. Her dog got scared and hid under the couch. It was a wonderful moment.
Goals for Gaby
Gaby is extremely excited to be attending Princeton and is bent on challenging herself even more. Gaby said, "I am pursuing a major in Molecular Biology and Psychology with a minor in French on a Pre-Med track." "I believe I am ready for that new chapter in my life and I strongly believe Gross Catholic has highly contributed to me feeling this way" said Gaby.
Gaby is especially interested in studying abroad through programs that combine research and service opportunities. She will join 110 other QuestBridge Scholarship recipients at Princeton and has already begun connecting with several of her future classmates.
Well done Gaby! Way to Be a Leader! Dux Esto.
What You May Have Missed
Follow Us on Social Media!
---
About Gross Catholic
Gross Catholic, a co-educational, college preparatory high school, began its proud heritage of academic excellence rooted in the Marianist tradition in 1968. We consider ourselves one of the best Catholic schools in Omaha, Bellevue, and Papillion. The school motto Dux Esto ("Be a Leader") is at the core of its extraordinary mission, innovative spirit, and fundamental values. The school offers a challenging environment and outstanding quality of life, both in academics and co-curricular activities, with a strong focus on STREAM (Science, Technology, Religion, Engineering, the Arts, and Mathematics) education. The spirit of Christian service and giving back is part of everything the school does. Gross Catholic's top-tier status is reflected in its talented faculty, staff, and coaches who take great pride in seeing virtually every graduate head to college, often to the most prestigious domestic and international universities and service academies. Together with families and alumni, Gross Catholic forges relationships for a lifetime, helping to ready the next generation to be exemplary, principled leaders of the world.
To discover the Gross Catholic difference, contact us at 402.734.2000 or visit our Admissions page.