Support Each Other
This article was recently published in Dux Esto Magazine
"It feels normal to support each other," said Barb Brennan '01 describing how she felt about giving to the Geiger family and helping to keep Drake Geiger's memory alive.
Remembering Drake Geiger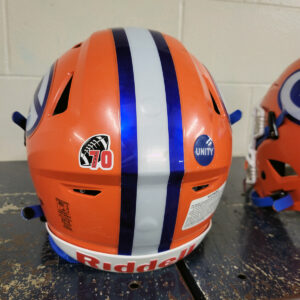 This past summer Omaha South High School Junior Drake Geiger, died suddenly during one of his first football practices of the season. The Cougar family heard of the tragic news and knew they needed to come together to support the Omaha South community. It started with an email, from Mardell Nacarelli, mother of current student Sal Nacarelli '23, to the Gross Catholic football parents. The response was immediate from the Cougar family as they came together to collect money to support the Geiger family. Brennan then had the idea to create a sticker to be placed on Gross Catholic's football helmets. This would be a symbolic way to show their support and keep Drake in everyone's memory and reminder that this could be one of our own Gross Catholic students.
"It's not about what school you go to, it's about community and taking care of each other," Brennan said. "It means something to show our children how to support each other, no matter what."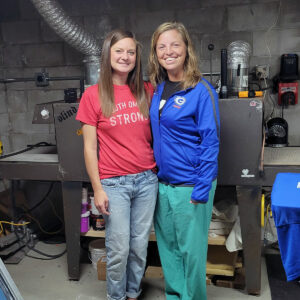 Miranda Engelkamp '02 started a screenprinting business, Leni and Lou, a little over a year ago. When the global pandemic caused a lot of people to lose their jobs, she wanted to do something to help. Engelkamp started a website to sell her apparel and other novelty items, and donates a portion of the proceeds to several local charities including Completely Kids, Inclusive Communities, Lydia House and Habitat for Humanity. Brennan knew Engelkamp could assist with making her idea come to fruition. She saw this philanthropy from Engelkamp and how she jumps in to help out in any situation. And of course, when Brennan reached out to her, she did just that.
Designing Stickers for Geiger
Engelkamp immediately started working on designing sticker decals for the football helmets. Only eight days after Brennan first contacted her, Engelkamp donated and delivered stickers for both the Gross Catholic football team as well as the Omaha South team. She also made additional stickers and t-shirts that are for sale on her website, with proceeds going to the National Center for Sport Safety.
Delivered
Gross Catholic football players personally delivered their financial donation for the Geiger family and Drake stickers for the football team to the Omaha South High School Athletic Director. The helmet stickers are a small piece that will keep the memory of Geiger alive on the football field.
Brennan said, "It is a small gesture that may not feel like much, but definitely shows how Gross Catholic supports our community. When people show up for each other when they are not asked to, I think it is moving and shows that community is what is most important."
What You May Have Missed
Follow Us on Social Media!
Follow us on Twitter.

Like us on Facebook.

Follow us on Instagram.

Follow our mascot, Freddie Cougar, on Facebook.
---
About Gross Catholic
Gross Catholic, a co-educational, college preparatory high school, began its proud heritage of academic excellence rooted in the Marianist tradition in 1968. We consider ourselves one of the best Catholic schools in Omaha, Bellevue, and Papillion. The school motto Dux Esto ("Be a Leader") is at the core of its extraordinary mission, innovative spirit, and fundamental values. The school offers a challenging environment and outstanding quality of life, both in academics and co-curricular activities, with a strong focus on STREAM (Science, Technology, Religion, Engineering, the Arts, and Mathematics) education. The spirit of Christian service and giving back is part of everything the school does. Gross Catholic's top-tier status is reflected in its talented faculty, staff, and coaches who take great pride in seeing virtually every graduate head to college, often to the most prestigious domestic and international universities and service academies. Together with families and alumni, Gross Catholic forges relationships for a lifetime, helping to ready the next generation to be exemplary, principled leaders of the world.
To discover the Gross Catholic difference, contact us at 402.734.2000 or visit our Admissions page.