What Young People Need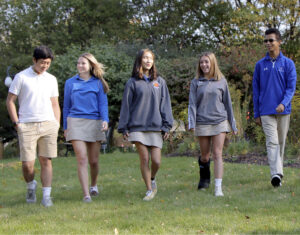 Omaha area Catholic school, or public school? Take a minute to think about all of the difficulties that youth face, during their teenage years. It's a time when they begin to act independently and make choices that can impact the rest of their lives. When they look at the future, they're often filled with hope and excitement along with some anxiety. They have questions about who they are and what they are called to be. Popular culture and our secular society are bombarding them with many "answers" to those questions each and every day. What young people need during their teenage years is a vibrant, faith-filled environment to teach them the knowledge and wisdom needed in an increasingly competitive and confusing world. We are a place that has an everyday impact.
The mission of Gross Catholic High School is to provide a faith-filled education built upon Catholic virtues and the life of Jesus Christ. We are a Catholic school and proud of it. However, you don't have to be Catholic to attend Gross Catholic. We accept students of all faiths and accept and honor all faiths. Gross Catholic teaches moral values and decision making,  The difference is that we can talk about faith in our school. We can teach students how to make moral decisions based upon faith. We talk and learn about morals in a safe environment. Our students go out into the world to become productive, successful, and ethical citizens. While the majority of the students at Gross Catholic come from Archdiocesan Catholic grade schools, we also have a number students who have attended public schools.
We interviewed a few of our current families that made the decision to send their student to Gross Catholic High School, after attending a public grade school.
What guided your decision making switching from a public school, to a Catholic high school?
Chris Drake (Current Sophomore Parent)
It ultimately came down to the closeness of the Gross Catholic family. My son is baptized Catholic, but never had any previous Catholic education. We knew that Gross Catholic emphasized academics and that the small class sizes were far superior to what we had experienced with our daughter at a large public high school.
Judy Sauley (Current Sophomore Parent)
The primary influence that drove us to send our son to Gross Catholic began in 7th grade public school. He started hanging around kids we did not think were a very good influence on his character. In addition, he began saying things that we did not like. We saw him heading in a direction we did not want, so we chose to invest in our son's future by ensuring a better environment.
What value do you see in sending your children to Gross Catholic High School as opposed to a public school?
Chris Drake
The value of having a small, close-knit group of students and families can't be emphasized enough.
Judy Sauley
The primary value of sending our children to Gross High School turned out to be the same reason my mother sent my brothers and sister and myself to Gross High School 30 years earlier. She said the reason she sent to Catholic school because she felt she would have four more years of influence over us with our faith, academic, and personal development. All the teachers knew our entire family and different teachers mentored each of us kids in different ways.
Did your student have any input in choosing a high school?
Chris Drake
Yes. Gross Catholic is actually my son's idea. He had played a couple of years of Junior Cougars sports and had become very close with a number of kids that were going to Gross Catholic.
Judy Sauley
Yes, so we developed a list of pros and cons. We explained our decision and why.  The primary argument that always came back to us on the con side (from them) was always the same. Their friends were going to a different high school. We explained that friends come and go, so that reason could not be the only argument against not going to Gross Catholic.
Tell us about the transition from public school to Catholic school for your student and family.
Chris Drake
My son has always been a solid and conscientious student. That said, there was a period of adjustment as he got used to the grading, homework load, and expectations. There was also some adjustment for us as a family made much easier by the Gross Catholic families that we had built relationships with.
Judy Sauley
A seamless transition quite frankly, because the small school size enabled our kids to get as involved as they wanted. It helped them excel where they would have been "lost" in the shuffle of public school.
What has your student gained from their experience at Gross Catholic High School?
Chris Drake
The academic and athletic experiences have been far greater than what he would have had at a public school. The relationships with friends, families, staff, and coaches is not something that he would have had the opportunity to form at a larger school.
Judy Sauley
Character development. Sending our kids to Gross Catholic instead of public school gave me firepower. We chose to invest in their future now when we could have chosen public school for free. So don't ever say we do not care. They knew the teachers could make more money elsewhere.  However, the teachers chose to work Gross Catholic, because it is more than just about the money.  That is one of life's most important lessons.
What advice would you have for public school families considering Gross Catholic High School?
Chris Drake
Don't ever worry that your kid won't be loved or valued at Gross.  Gross Catholic is an amazing place that embraces every person, regardless of faith. I doubt that you will feel more welcomed than you will at Gross Catholic.
Judy Sauley
Sending your kids to Catholic School instead of a public school is an investment in their future. It is about leading in every aspect of their lives – moral character, community service, academic development, critical thinking skills, ethical responsibility, and a faith-filled life. With the more personalized approach for students, they are more involved and excel in a safer, more supportive atmosphere.
What You May Have Missed
Follow Us on Social Media!
---
About Gross Catholic
Gross Catholic, a co-educational, college preparatory high school, began its proud heritage of academic excellence rooted in the Marianist tradition in 1968. We consider ourselves one of the best Catholic schools in Omaha, Bellevue, and Papillion. The school motto Dux Esto ("Be a Leader") is at the core of its extraordinary mission, innovative spirit, and fundamental values. The school offers a challenging environment and outstanding quality of life, both in academics and co-curricular activities, with a strong focus on STREAM (Science, Technology, Religion, Engineering, the Arts, and Mathematics) education. The spirit of Christian service and giving back is part of everything the school does. Gross Catholic's top-tier status is reflected in its talented faculty, staff, and coaches who take great pride in seeing virtually every graduate head to college, often to the most prestigious domestic and international universities and service academies. Together with families and alumni, Gross Catholic forges relationships for a lifetime, helping to ready the next generation to be exemplary, principled leaders of the world.
To discover the Gross Catholic difference, contact us at 402.734.2000 or visit our Admissions page.