O'Donnell Returns to His Alma Mater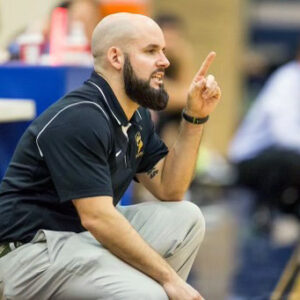 Gross Catholic is pleased to announce that alumnus Terrence O'Donnell will join the administrative team as Assistant Athletic Director starting this July.
O'Donnell's Upbringing
To begin with, Terrence attended St. Joan of Arc Elementary and Middle School in Westgate. While at Gross, Terrance was a multi-sport athlete: football, basketball, baseball, and track. Accordingly, he entered Bellevue University to study business and play basketball. After deciding to become a teacher, he transferred to the University of Nebraska, Omaha to earn a Bachelor of Science in Education. While at UNO, he helped coach Bellevue University's basketball team.
Professional Career
Terrence has held several positions in his professional career. He spent a year in South America teaching middle and high school English in Cali, Colombia. He returned stateside to teach social studies at Omaha South High School. There he coached Freshman and JV boys' basketball. Subsequently, O'Donnell moved to Bryan High School where for nine years he taught history and sociology and was the Varsity boys' basketball coach.
Currently, Terrence serves as Athletic Director at St. Joan of Arc where he coordinates physical education for the Dual Language Academy in the Consortium of the Archdiocese of Omaha. At DLA, his emphasis has been on bodily kinesthetic intelligences – helping students understand how to use and control their bodies and the importance of a holistically healthy lifestyle. He has also facilitated partnerships with Creighton University Men's Soccer and Bellevue University Volleyball to ensure professional development for coaches. This spring he will complete a master's degree in Educational Leadership at UNO.
Deep Ties to South Omaha
Terrence has deep ties to the South Omaha community and has been influential in athletic communities throughout the city. He was the co-founder and Director of Basketball Development for the girls' basketball team Mid-City Mambas. Also, O'Donnell has volunteered with Completely Kids and Police Athletics for Community Engagement (PACE). Finally, he is active with the Dual Language Home and School Association and serves on the school board at St. Joan of Arc.
The Family O'Donnell
Terrence is married to Gross alumna, Rosa Valencia '00, and they have three children. They are parishioners at St. Joan of Arc. Notably, Terrence enjoys triathlon training and mountain biking, practices mindfulness and yoga, and is an avid adventure traveler.
Excited for the Return
"I am incredibly excited to return to Gross and serve this wonderful family. I look forward to working closely with our coaches as they continue to develop our student-athletes to strive to be the best versions of themselves and operate at the highest level of excellence in the classroom, on the field and court, and in the community in such a way as to attract more and more wonderful families to our Marianist mission. DUX ESTO!"
"Estoy tan emocianodo a volver a Gross High School para servir. Pienso en el futuro a trabajar con nuestros entrenadores apasionados mientre suigen a desarrar nuestros estudiantes deportistas a tratar de ser los versiónes mejores de sus mismos y representar en las salas de la escuela, las canchas, y la cominidad en una manera que atrae mas familias maravillosas a nuestra misión Marianist. DUX ESTO!"
What You May Have Missed
Follow Us on Social Media!
---
About Gross Catholic
Gross Catholic, a co-educational, college preparatory high school, began its proud heritage of academic excellence rooted in the Marianist tradition in 1968. We consider ourselves one of the best Catholic schools in Omaha, Bellevue, and Papillion. The school motto Dux Esto ("Be a Leader") is at the core of its extraordinary mission, innovative spirit, and fundamental values. The school offers a challenging environment and outstanding quality of life, both in academics and co-curricular activities, with a strong focus on STREAM (Science, Technology, Religion, Engineering, the Arts, and Mathematics) education. The spirit of Christian service and giving back is part of everything the school does. Gross Catholic's top-tier status is reflected in its talented faculty, staff, and coaches who take great pride in seeing virtually every graduate head to college, often to the most prestigious domestic and international universities and service academies. Together with families and alumni, Gross Catholic forges relationships for a lifetime, helping to ready the next generation to be exemplary, principled leaders of the world.
To discover the Gross Catholic difference, contact us at 402.734.2000 or visit our Admissions page.