Playing Under New Lights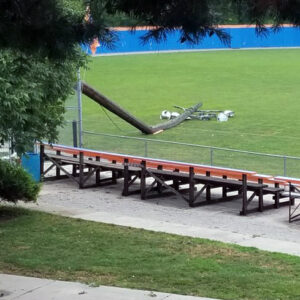 Gross Catholic's baseball program is steeped in tradition and has been a point of pride in our community since the school's inception in 1968. Recently, our baseball facility suffered major damages from a storm in July 2021. The storm knocked down four wooden light poles and caused further damage to the concession stand, dugouts, bullpen, and fencing.
Gross Catholic is faced with replacing the eight existing wooden light poles with six new galvanized steel poles and lights by Musco. Because this expense is not budgeted, the project required immediate fundraising to secure the needed support.
Goal Achieved
We are proud to announce that, in less than three months of fundraising, we achieved our goal. Baseball alumni and several other Gross Catholic boosters stepped up to the plate, helping us raise more than $92,500.00. These funds will offset the cost of the over $300,000.00 project.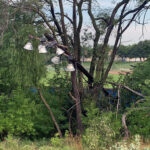 This investment will add sustainable benefits that will serve our baseball program, as well as Legion and Junior Cougar Baseball, long into the future. The product assurance and warranty program, which includes materials and onsite labor, will eliminate 100 percent of maintenance costs for the next 25 years.
Removal and Installation of New Lights
Removal of the old light fixtures is scheduled to begin in early February, with the installation of the new fixtures set for early March. We look forward to celebrating this achievement with our community and watching our Cougar baseball team play under lights.
The support of this project highlights the commitment that our alumni and community have for Gross Catholic.
What You May Have Missed
Follow Us on Social Media!
---
About Gross Catholic
Gross Catholic, a co-educational, college preparatory high school, began its proud heritage of academic excellence rooted in the Marianist tradition in 1968. We consider ourselves one of the best Catholic schools in Omaha, Bellevue, and Papillion. The school motto Dux Esto ("Be a Leader") is at the core of its extraordinary mission, innovative spirit, and fundamental values. The school offers a challenging environment and outstanding quality of life, both in academics and co-curricular activities, with a strong focus on STREAM (Science, Technology, Religion, Engineering, the Arts, and Mathematics) education. The spirit of Christian service and giving back is part of everything the school does. Gross Catholic's top-tier status is reflected in its talented faculty, staff, and coaches who take great pride in seeing virtually every graduate head to college, often to the most prestigious domestic and international universities and service academies. Together with families and alumni, Gross Catholic forges relationships for a lifetime, helping to ready the next generation to be exemplary, principled leaders of the world.
To discover the Gross Catholic difference, contact us at 402.734.2000 or visit our Admissions page.