Upcoming Alumni Updates and Happenings!
Gross Catholic High School is buzzing with excitement as we approach two major events that celebrate our vibrant alumni community. Let's dive into the details and ensure you don't miss out on the action!
Alumni Giving Challenge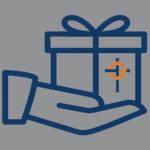 Gear up for a week of excitement, camaraderie, and giving back during our Alumni Giving Challenge, launching on November 22nd and concluding on November 28th. This year, our theme is "Grateful For Gross," and we aim to raise $50,000 for 50 scholarships. Each class is encouraged to participate, and the class with the highest percentage of engagement will be crowned the challenge winner. Get ready for surprise guest appearances, throwback photos, messages from current students, and more!
Donate to the Challenge Now!
Venmo: @Gross-HighSchool. Put "AGC" in the notes when you use Venmo along with your name and the year you graduated!
Distinguished Alumni Award Nominations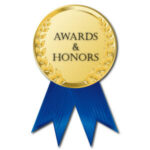 Coming soon, the curtain will rise on the unveiling of this year's Distinguished Alumni Award nominees. The response to nominations has been overwhelming, underscoring the outstanding achievements of our alumni. Mark your calendars for December 1st, 2023, when we announce the nominees. The final winner will receive recognition at our annual CeleBration event in April 2024.
CeleBration April 2024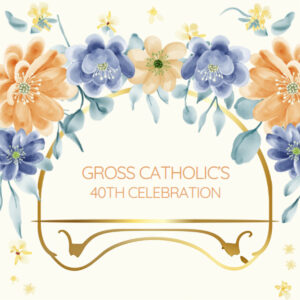 Looking ahead, mark your calendars for the 40th Annual CeleBration in April 2024. Save the date for a spectacular event that promises to bring together alumni, friends, and the Gross Catholic community. Official details are on the way, so keep an eye out for the announcement. We hope to see you there, celebrating 40 years of tradition, excellence, and the enduring spirit of Gross Catholic High School.
Stay connected, stay engaged, and let's make these events memorable! Visit cougar.family/daa23 to cast your vote for the Distinguished Alumni Award.
What You May Have Missed
Follow Us on Social Media!
---
About Gross Catholic
Gross Catholic, a co-educational, college preparatory high school, began its proud heritage of academic excellence rooted in the Marianist tradition in 1968. We consider ourselves one of the best Catholic schools in Omaha, Bellevue, and Papillion. The school motto Dux Esto ("Be a Leader") is at the core of its extraordinary mission, innovative spirit, and fundamental values. The school offers a challenging environment and outstanding quality of life, both in academics and co-curricular activities, with a strong focus on STREAM (Science, Technology, Religion, Engineering, the Arts, and Mathematics) education. The spirit of Christian service and giving back is part of everything the school does. Gross Catholic's top-tier status is reflected in its talented faculty, staff, and coaches who take great pride in seeing virtually every graduate head to college, often to the most prestigious domestic and international universities and service academies. Together with families and alumni, Gross Catholic forges relationships for a lifetime, helping to ready the next generation to be exemplary, principled leaders of the world.
To discover the Gross Catholic difference, contact us at 402.734.2000 or visit our Admissions page.