Don't Make a Scene! Witness Appropriate Audience Behavior!
Buy your Appropriate Audience Behavior Tickets Now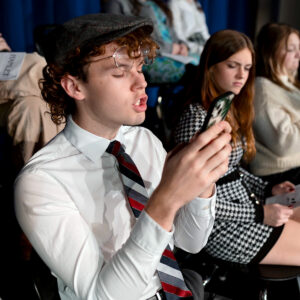 The G.C. Theatre One Act fall play brings the comedy "Appropriate Audience Behavior" to the stage November 17th-19th. The Friday and Saturday shows start at 7:30pm, with a 2pm Sunday matinee in the school auditorium.
Theater Etiquette Takes Center Stage
In this satirical show, the audience itself becomes the entertainment. As Carol and Ashley take their seats expecting to see Hamlet, little do they know the real laughs will come from their distracting fellow theatergoers. This meta-comedy pokes fun at the eccentric and inappropriate behavior of noisy patrons who steal the Shakespeare show.
The Opposite of Appropriate Audience Behavior!
From a loud cough drop unwrapper to a sports buff viewing the play like a football game, quirky disruptors hijack the unseen Hamlet performance. The spotlight shines on the audience and their humorous lack of etiquette.
Talented student actors will bring the dysfunctional crowd to life. Fans of slightly surreal, exaggerated comedy will appreciate this clever theatrical satire.
Get Your Tickets Now to Appropriate Audience Behavior!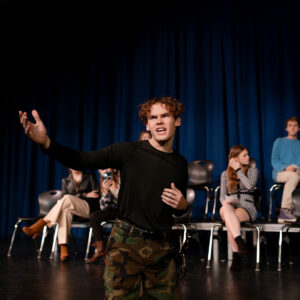 Don't miss the opportunity to enjoy the amusing antics while supporting G.C. Theatre's teens. Attend "Appropriate Audience Behavior" for a night of vibrant, hysterical entertainment that reminds us to mind our manners at the theater.
Get your tickets now and see what imaginative disruptions unravel around Carol and Ashley! This lively show promises hilarious observations on our collective theatergoing habits.
Get Tickets Now
What You May Have Missed
Follow Us on Social Media!
---
About Gross Catholic
Gross Catholic, a co-educational, college preparatory high school, began its proud heritage of academic excellence rooted in the Marianist tradition in 1968. We consider ourselves one of the best Catholic schools in Omaha, Bellevue, and Papillion. The school motto Dux Esto ("Be a Leader") is at the core of its extraordinary mission, innovative spirit, and fundamental values. The school offers a challenging environment and outstanding quality of life, both in academics and co-curricular activities, with a strong focus on STREAM (Science, Technology, Religion, Engineering, the Arts, and Mathematics) education. The spirit of Christian service and giving back is part of everything the school does. Gross Catholic's top-tier status is reflected in its talented faculty, staff, and coaches who take great pride in seeing virtually every graduate head to college, often to the most prestigious domestic and international universities and service academies. Together with families and alumni, Gross Catholic forges relationships for a lifetime, helping to ready the next generation to be exemplary, principled leaders of the world.
To discover the Gross Catholic difference, contact us at 402.734.2000 or visit our Admissions page.