Teachers Retire
As the 2021-2022 school year concludes, we say goodbye to two long-time Gross Catholic teachers. Mr. Dan Connelly and Mrs. Yvonne Carson are both retiring from teaching. We asked them both what their favorite memories are and what they are looking forward to during their retirement.
Mr. Connelly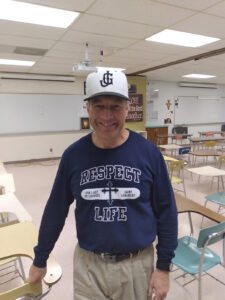 Mr. Connelly has taught Theology at Gross Catholic, since the fall of 1996. He has also helped coach baseball and football for over 20 years. Additionally, Mr. Connelly has helped organize and run student retreats as well as trips to Washington, D.C. for the National March for Life.
Mr. Connelly loved to see students who were difficult and lost, but during their time at Gross Catholic they grew and entered a positive relationship with the Lord. His favorite memory of his time at Gross Catholic is the people growing in their relationships with Jesus, especially Scott Schilmoeller who has become a priest and Molly Larkin, who has become a nun.
Mr. Connelly is especially looking forward to traveling, studying the Bible and not having to do ANYTHING on the computer, during his retirement.
Mrs. Carson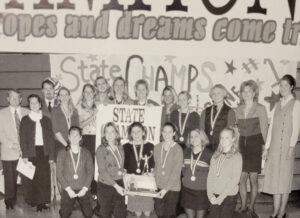 Mrs. Carson started teaching English at Gross Catholic in 1994. She has taught freshmen through Juniors as well as Honors English classes. She has coached Varsity Volleyball as well as Track and Field (for a short time). One of her favorite memories is bringing home the first State Volleyball Title in 1999. She really enjoyed working with the students, athletes, and colleagues.
Mrs. Carson is most looking forward to traveling, catching up on reading and spending time with her family and especially her grandchildren, during her retirement.
Thank you both for your years of service to Gross Catholic High School!
What You May Have Missed
Follow Us on Social Media!
---
About Gross Catholic
Gross Catholic, a co-educational, college preparatory high school, began its proud heritage of academic excellence rooted in the Marianist tradition in 1968. We consider ourselves one of the best Catholic schools in Omaha, Bellevue, and Papillion. The school motto Dux Esto ("Be a Leader") is at the core of its extraordinary mission, innovative spirit, and fundamental values. The school offers a challenging environment and outstanding quality of life, both in academics and co-curricular activities, with a strong focus on STREAM (Science, Technology, Religion, Engineering, the Arts, and Mathematics) education. The spirit of Christian service and giving back is part of everything the school does. Gross Catholic's top-tier status is reflected in its talented faculty, staff, and coaches who take great pride in seeing virtually every graduate head to college, often to the most prestigious domestic and international universities and service academies. Together with families and alumni, Gross Catholic forges relationships for a lifetime, helping to ready the next generation to be exemplary, principled leaders of the world.
To discover the Gross Catholic difference, contact us at 402.734.2000 or visit our Admissions page.