UNO Scholars Academy Scholarships Awarded
Gross Catholic teacher, Mr. Shelby Sweetmon, is proud to announce that three students from the Business Education Department have been awarded scholarships to the University of Nebraska at Omaha College of Business Administration.
Gio, Alison, & Cadence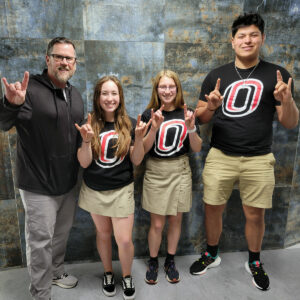 Gio Gomez, Allison Drozd and Cadence Sweetmon are recipients of the competitive CBA Scholars Academy Scholarship. The CBA Scholars Academy is a community where high-achieving students can develop their strengths, challenge their minds, engage with others and invest in their futures.
Exploring Leads to Scholarships
Gross Catholic offers many business classes allowing students to explore the possibilities of different careers including Business Management/Entrepreneurship, Personal Finance, Economics and Accounting. Allison Droze said "I absolutely loved taking Accounting." She enjoyed the application problems where students learned how to work through accounting problems and business transactions and applied them to real life situations. Allison plans to major in Accounting at UNO.
Business Management Course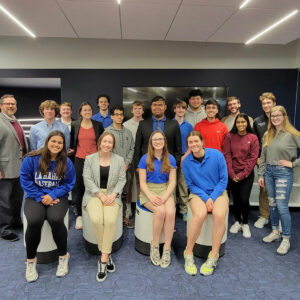 Cadence Sweetmon's favorite business class was Business Management. She enjoyed this class because it is focused on entrepreneurship and she hopes to open her own business one day. Cadence said "The best project we did was the Shark Tank. We pitched an original idea to the UNO ELLC (Entrepreneurship Living and Learning Community) students to try to gain simulated funding. I loved this project because it allowed me to work with a team to build a company from the ground up, and ignited my passion for entrepreneurship." Cadence learned of the Scholars Academy Scholarship when on a UNO on-campus visit. She said "As a prospective business student, I was invited to a UNO College of Business visit day. It was then that I fell in love with UNO and its business program, but also learned about this opportunity."
Skills Learned
Gio Gomez agrees that the Business Management class has been his favorite business class. Gio said "Along with the many board games that give me more insight on how to run and manage a business, we also are challenged to come up with innovative ideas to improve society as a whole." The Business Management class, along with several other classes at Gross Catholic have taught Gio many skills including good study habits, social skills, and leadership skills. Gio said "The teachers want you to succeed, and that is shown through their teaching." Gio currently plans to major in marketing at UNO.
What You May Have Missed
Follow Us on Social Media!
---
About Gross Catholic
Gross Catholic, a co-educational, college preparatory high school, began its proud heritage of academic excellence rooted in the Marianist tradition in 1968. We consider ourselves one of the best Catholic schools in Omaha, Bellevue, and Papillion. The school motto Dux Esto ("Be a Leader") is at the core of its extraordinary mission, innovative spirit, and fundamental values. The school offers a challenging environment and outstanding quality of life, both in academics and co-curricular activities, with a strong focus on STREAM (Science, Technology, Religion, Engineering, the Arts, and Mathematics) education. The spirit of Christian service and giving back is part of everything the school does. Gross Catholic's top-tier status is reflected in its talented faculty, staff, and coaches who take great pride in seeing virtually every graduate head to college, often to the most prestigious domestic and international universities and service academies. Together with families and alumni, Gross Catholic forges relationships for a lifetime, helping to ready the next generation to be exemplary, principled leaders of the world.
To discover the Gross Catholic difference, contact us at 402.734.2000 or visit our Admissions page.